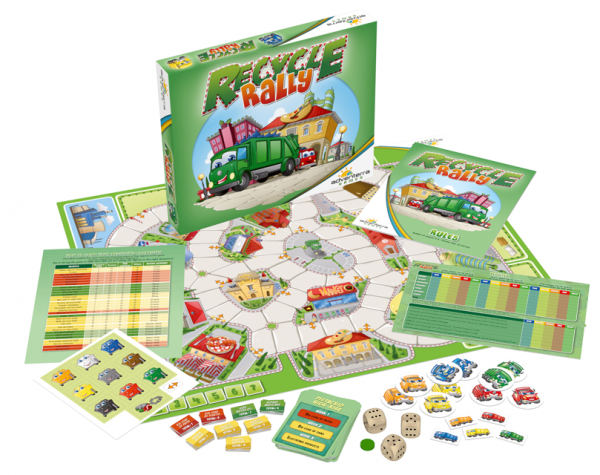 - February 4, 2022 /PressCable/ —
The improved product builds on all the elements that led to awards such as 'Recommended for Play 2021', by Mensa Mind Games, and 'Top 25 Board Games for Kids 2021' by Good Housekeeping Magazine.
More details can be found by checking out Recycle Rally on Amazon or visiting Adventerra Games' Amazon Storefront
Swiss-based Adventerra Games focuses on eco-friendly products that introduce environmental themes and develop science, technology, engineering, math, and logic skills. The updated edition of Recycle Rally is designed to make children aware of environmental themes and teaches them how to recycle.
Technology permeates almost every corner of modern life, and developing children's abilities in key STEM subjects is a priority for most modern education curriculums. As climate change becomes an increasingly pressing issue, it is expected that industries such as renewable energy will become significant employers in the future.
Designed to build environmental awareness and develop creativity, Recycle Rally now provides children aged 5 to 7 and above with an entertaining introduction to recycling. Gameplay involves driving recycling trucks around a town and collecting higher value materials while avoiding potential disasters.
In the course of the game, children learn about the recycling of plastic, glass, and metal goods. Abilities such as critical thinking, problem solving, and strategy are now integral components, which instill both academic knowledge and life skills.
In addition to those mentioned previously, Recycle Rally was also awarded the 'Gold Standard Toy Seal 2020' by Stem.org, along with the 'Seal of Approval 2020' from the National Parenting Center. With the most recent iteration, Adventerra Games hopes that the popular climate change game will continue to receive global attention.
About Adventerra Games
Adventerra Games, a family-owned company based in Switzerland, publishes engaging puzzles and games that help kids learn to conserve natural resources and save the planet. With a passion for games and concern for the environment, Adventerra Games itself adopts an ecologically friendly approach to all of its activities. Products are plastic-free and made using 100% recycled materials. The recent updates to Recycle Rally further the company's goals of educating children in this field.
While playing our simple and enjoyable games, players intuitively learn new behaviors that reduce their ecological footprints. When these behaviors become lifetime habits, players become super-heroes for the planet! Bryan Mundell, the Founder/Owner and coinventor of the games, incorporated Adventerra Games North America LLC in 2019 to bring his games to North American families.
A company representative stated: "We made a conscious decision to create board games for kids that raise awareness of environmental issues. Our choice was dictated by the urgency of the environmental challenges around us as well as the need to educate children to respect the environment."
Play & Learn, Save the Planet is Adventerra Games' motto. Follow the game maker on social media channels at @adventerragamesnorthamerica on Facebook, Instagram, Linkedin and YouTube. Shop online for a variety of board games, puzzles, and memory games at www.adventerragamesusa.com.
To shop or to learn more, visit Amazon or www.adventerragamesUSA.com
Release ID: 89062756