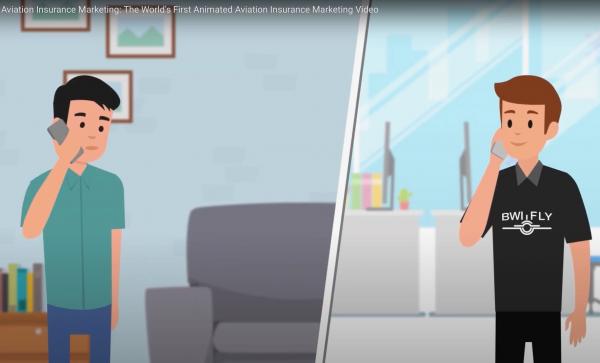 - June 27, 2020 /PressCable/ —
Aviation Insurance is a small, close-knit industry, dominated by a few, large and established legacy insurance brokers. These brokers have been the main players in this market for the past 40 years and have employed basically the same marketing tactics that worked for them back in the 80's. Aviation Insurance marketing is not sexy and for the past 40 years usually involved a postcard mailer advertisement or attendance at a local airshow.
This all changed on June 22nd when BWI Aviation Insurance, a fast rising star in the aviation industry, launched the very first cartoon marketing video for aviation insurance and aircraft owners. Aviation Insurance Marketing: The World's First Animated Aviation Insurance Promo Video This is the first new marketing medium in over 4 decades for an industry still stuck in the 1980's. This new marketing tactic is expected to set off a seismic shift in bringing new, modern marketing ideas to an older and established industry not typically comfortable with change.
Unlike the auto insurance industry, which has evolved its marketing over the past 20 years to appeal to online and video centric generations, the aviation insurance industry has remained relatively stagnant in adapting to new marketing tactics. Auto insurance commercials like Geico's, Gecko series and Progressive's Flo character were designed to make insurance fun and relatable. No one really looks forward to seeing insurance marketing but as video and social media have become essential parts of our daily lives, the industry has had to evolve to remain relatable.
For many reasons including a lack of fresh ideas and upward pressure from younger owned insurance brokers, aviation insurance has not gone through the same transition as the auto insurance industry. BWI Aviation Insurance is the first broker to start shaking things up.
According to BWI Aviation Insurance "We're excited to announce our new YouTube Channel BWI FLY LIVE! Our new channel will feature information, news and tips for all things aviation insurance.To celebrate, we are releasing a fun, 15 second promo video"
In releasing not only a new cartoon marketing video but also establishing a dedicated YouTube Channel, BWI Aviation Insurance appears to be thinking long term about aviation insurance marketing disruption. The next few years of marketing in aviation insurance will be very interesting as we see new ideas come to the market and larger brokers forced to make a decision to evolve or hold tight.
Release ID: 88966013