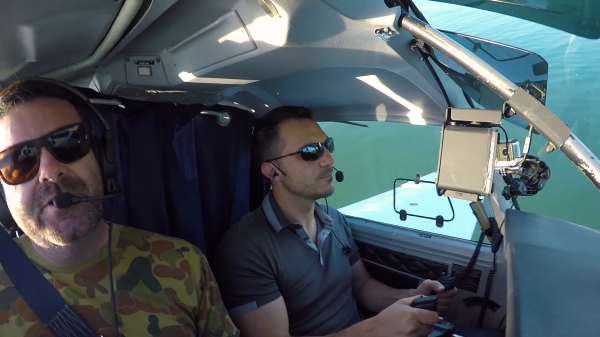 - August 16, 2017 /PressCable/ —
Farmingdale, New York-based, Nik Tarascio, CEO of Ventura Air Services, a private jet charter, flight experience and aircraft maintenance company, has launched a YouTube Channel. Aptly named "Take Off With Nik," this channel aims to humanize the aviation industry with one-on-one interviews from the cockpit with influencers, thought leaders, and entrepreneurs who are pushing the boundaries and changing the rules of what is possible.
More information is available at https://youtube.com/takeoffwithnik.
Recently launched, Take Off With Nik is inclusive and challenges misconceptions about barriers of entry into the aviation industry. The YouTube channel also offers an inside view of the aviation world, encourages others to pursue flight opportunities, and challenges people to make every moment count.
Featuring conversations and flight adventures with thought leaders and innovators, all recorded while flying, this YouTube channel pushes the boundaries and changes the rules on what is possible. Guests on Take Off With Nik include a former Navy Seal sniper, NY Times best-selling author and entrepreneur, Brandon Webb, Designer, speaker, and sustainable building expert, Ben Uyeda, and author, speaker, productivity coach, and founder of Leverage, Ari Meisel.
These interviews and many more have attracted tens of thousands of views and several hundred subscribers. New guests are lining up, and the viewership will continue to increase significantly based on the upcoming collaborations now in the works.
Taking the YouTube show to EAA AirVenture 2017, Nik Tarascio highlighted stories from industry leaders, explored innovative technology, and discussed how these innovations are going to change the future of transportation. Since then, major aviation news outlets have distributed many of the interviews from the event.
As ATC Privatization threatens the future of general and private aviation, Tarascio firmly believes that one of the most powerful things people in the industry can do is to share their stories. He feels that storytelling is the best way to educate the public on how important general and private aviation is for the economy and how most pilots in this country are not wealthy elites who can afford added financial burdens on their ability to fly.
When asked about the new YouTube channel, Nik Tarascio said, "My goal is to dispel the myth that private and general aviation is so inaccessible by sharing incredible flight adventures and intimate conversations with influencers. Filming it at 10,000 feet enables us to strip away all the pretense, distractions, and scripted responses and show a different side of our guests."
To find out more about Nik Tarascio and his YouTube channel "Take off With Nik," visit https://youtube.com/takeoffwithnik. To be a guest on the show or to get in touch, email town@ventura.aero.
Release ID: 229516