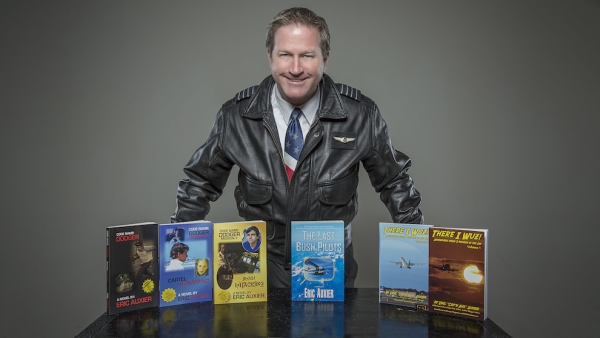 - October 22, 2016 /PressCable/ —
EALiterary Press has announced today that their author, Eric Auxier, will donate half of all sales to help the world's orphans.
Just this month, EALiterary Press released Auxier's most recent novel, Yakuza Dynasty. The young adult spy thriller novel has been winning praises from critics, such as this official review from the Online Book Club: "One of the best books I've ever read—absolutely in the same league as the Harry Potter series."
Full OBC review: http://forums.onlinebookclub.org/viewtopic.php?f=53&t=38218
Author Auxier says he's always admired the orphan charities FlyingKites.org and kinshipunited.org, and the work they do helping the world's orphans. He said he's thrilled to be able to give back to organizations that have given so much and done so much good over the years. He said anyone who purchases his aviation books and young adult "spy/fly" thriller novels will now know that, not only do they get the best education and entertainment for the aviation and espionage enthusiast, they'll also be helping the world's orphans.
As an airline pilot, columnist for Airways Magazine and blogger (capnaux.com), Auxier is mostly known for his aviation books. Indeed, his second novel, The Last Bush Pilots, captured a Top 100 spot for Mainstream Fiction in Amazon's "Breakthrough Novel" awards. Despite his aviation writing background, however, Auxier said in a recent interview that he got the idea to donate to orphan charities through his main character in his Code Name: Dodger spy series.
Said Auxier, "My first-ever book character, Justin Reed, is a teen orphan from New York. So, it was only natural for me to want to help the world's orphans through his spy adventures."
In Mission 1 of the Code Name: Dodger series, Justin is trained by the CIA in order to thwart an assassination attempt on him by the evil enemy spy Pharaoh. All four missions of the Code Name: Dodger series are episodic, and can be read in any order. The Last Bush Pilots, as well as Auxier's three-volume nonfiction series, There I Wuz! Adventures From 3 Decades in the Sky, are available in print or ebook through the author's amazon website. Several of the books are also available on audiobook.
For more information, visit the author's amazon website at: http://amazon.com/author/ericauxier
About EALiterary Press
EALiterary Press was founded in 2009 and serves the author industry. It is known for inspiring, educating, and entertaining aviation enthusiasts.
Release ID: 140165