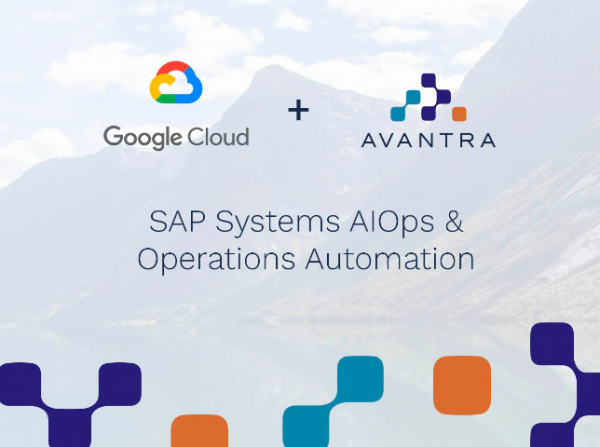 - August 12, 2020 /PressCable/ —
Avantra, one of SAP's leading AIOps and automation platforms last week declared in their press release their exciting strategic partnership with Google Cloud to enable companies to accelerate the migration of their SAP workloads to the cloud.
A quick re-cap on their press release and who they are, Avantra provides automated develop and execute capability to manage businesses and managed service providers (MSPs) on their digital transformation journey and as documented in the press release, has recently joined a select number of independent software vendor partners in the Google Cloud SAP Technology Partner Portfolio to help support mission-critical SAP workloads, which is critical stuff – and it paid off – as over 400 journalists picked up the press release and published it to their readership. The press release was also picked up by several prestigious online media providers such as Yahoo! News, MorningStar, Benzinga and StreetInsider.
Avantra's partnership press release has credibility too, receiving backing directly from Rob Enslin, President of Cloud Sales at Google Cloud who, in the press release, stated "We are very pleased to partner with Avantra to help businesses with their SAP migration to Google Cloud," he then continued with "Businesses can now leverage Avantra's automation and AIOps capabilities to increase efficiency while reducing the risk of costly downtime in their SAP migrations and operations.". If you want to see more information about the company or simply find out pricing of the new service,
The overall aim of the press release was to bring awareness to the incredible partnership Avantra has made directly with Google Cloud. The article was also to bring attention to the immediate efficiency and automation benefits that come to enterprises who are deploying Avantra for their SAP operations.
"SAP applications are moving ever more rapidly to the cloud," said John Appleby, Chief Executive Officer, Avantra. "By combining Avantra's AIOps solution with Google Cloud's trusted and secure infrastructure, enterprises can improve business experience, reduce the risk of downtime, and accelerate their journey to the cloud."
Avantra is available on Google Cloud Marketplace where you can try out their 30-day free trial.
,
Release ID: 88972362