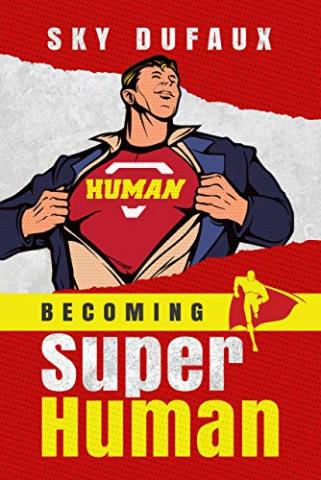 - March 16, 2021 /PressCable/ —
San Francisco, March 16, 2021 – 'Becoming Superhuman' by Sky Dufaux has been specifically designed to put readers back on track to living a healthy lifestyle – as long as humanly possible.
Dufaux, a self-styled human optimization and longevity expert, has, for the first time, committed his thoughts in this eagerly-awaited guide to turning people into superhumans. His book will be available via Amazon starting March 17, 2021. Those who want to purchase can go to: https://amzn.to/3qrod2y
Dufaux's clients already experience dramatic improvements in energy, sex drive, emotional balance, mental resilience, cellular rejuvenation, beauty, and lean body composition. And now readers can benefit to.
From the pages of Becoming Superhuman, they will learn how to optimize their lifestyles, boost self-belief and grasp the vitality that may have slipped through their fingers over the years.
"The book will help them discover their real potential for living a healthy life as long as possible," said Dufaux, who holds a Master's Degree from University of California, Berkeley. "It's not enough to just imagine getting those youthful years back. Mean it and start walking the path of a hero today."
Becoming Superhuman will be a starting point for a new era. Over the three chapters, readers discover a host of useful information, including their real potential for living a healthy life, escaping from the aging trance, learning to defy your genetic history and seeing direction beyond a "healthy lifestyle".
The guide will also help develop their knowledge to take control on their healthy journey and enable them to start feeling younger every day.
Dufaux's ideas are shaped by learning at a young age by exploring a vast ranch in northern New Mexico and then, in his college years, becoming obsessed with the quantum aspect of humans
In his book, he states: "The villain of the story is decline. We think of aging as an inevitable process. We're born, grow up, and then eventually start to slide down the other side of that mountain. And worst of all, there's nothing we can do about it.
"What we need to understand is that if we want our bodies to change, we must first change our minds. If we can accomplish this, our bodies will follow suit."
He adds: "Intention is the root of every action, every commitment. Without clear intentionality, we can't change our mode of thinking significantly enough to do anything of significance. So, if we want to live into our hundreds, it isn't simply a matter of a life with good vital signs. It's a matter of mentality and the intention to live into our hundreds."
Becoming Superhuman will offer a journey of discovery for the reader, enabling them to adjust their mental state and take back control by snapping out of ingrained acceptance, and living the life they should.
Release ID: 88998253