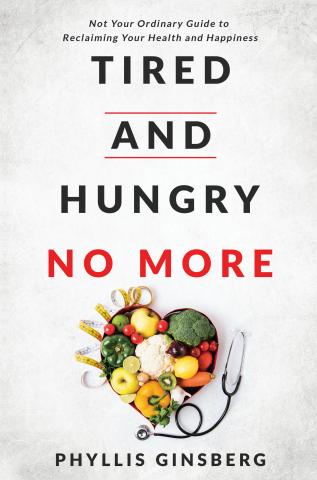 - March 27, 2019 /PressCable/ —
Phyllis Ginsberg, a marriage and family therapist and positive psychology expert, announced that her new book, Tired and Hungry No More – Not Your Ordinary Guide to Reclaiming Your Health and Happiness, will be available on April 2nd. The book offers an unconventional approach to help readers overcome emotional and psychological blocks to lead a happier, healthier and more productive life.
Tired and Hungry No More is a new self-help book based on the latest advances in positive psychology and Phyllis' three decades of experience as a therapist. Included are concepts from diverse areas such as brain research, Energy Psychology, habit formation and other areas. The book is an ideal guide for anyone who wants results which will last.
Ginsberg describes her approach as "Survival to Thrival," a method rooted in her personal experience with stress and fatigue, as a former court expert working with high-conflict divorce cases. In 2005, Phyllis began to implement a series of changes which have led her away from a life of stress and burnout to a more fulfilling path, one that she has been able to share with her clients.
The idea that shifting the focus away from "survival" towards what's possible has helped Phyllis create effective programs for both individuals and groups, and her expertise in positive psychology, brain research and EFT Tapping have allowed her to optimize her approach for maximum efficiency.
A satisfied client said: "When I met Phyllis, I was completely unaware of how much my subconscious was running my life. When I tried to make changes using willpower alone, I continued to fall short of achieving my goals and continued to slip back into old patterns and habits. Through my work with Phyllis she has put me on the path to permanent change. I'm so grateful for the results I'm getting through working with her."
More information can be found at https://www.phyllisginsberg.com.
Release ID: 495792