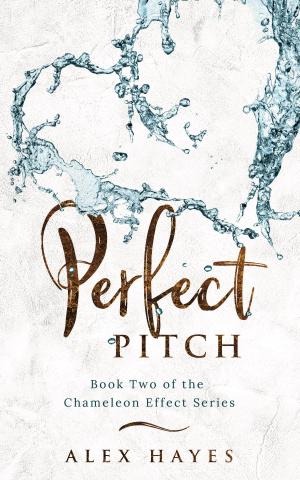 - August 27, 2019 /PressCable/ —
ROCHESTER, N.Y. (August 5, 2019) – "Perfect Pitch," the second book in The Chameleon Effect series by Alex Hayes, was released by Shaking The Tree Press on August 6, 2019.
The Chameleon Effect series stars shape-shifting teens with unusual superpowers and is certain to appeal to young and new adult readers who enjoy romance novels with a paranormal twist.
"Perfect Pitch" packs a lot of action between its covers. It tells the story of Cadi, a teen coming to terms with her life as a shape-shifter, and Dean, a young man forced to steal his little brother away from an abusive father and alcoholic mother.
Cadi's life is almost back together after Dean blew it into a million pieces in the previous novel. Now, she's trying to protect an alien tree – needed for the survival of her race – from a vicious enemy out to destroy the remnants of her people. As if that isn't enough for your normal, everyday shape-shifter, Cadi must deal with Dean's return. His arrival forces her to make an important decision: let him into her secret alien world, or slam the door shut in his face.
"Perfect Pitch" follows the first installment in The Chameleon Effect series, "Silken Scales," which tells the story of Idris, who seems doomed to follow his famous father into a career as a motivational speaker. That is, until Idris morphs into a monster. "Silken Scales" also introduces the reader to Cadi, whose life is turned upside down – until a crystal leads her to this lizard boy with a smart mouth and massive ego.
The Chameleon Effect series is a world created by author Alex Hayes, who wrote her first fiction story when she was twelve years old. Inspired by her mother's storytelling, she began work on her first novel, "Ice Cracks," at eighteen.
She received a Bachelor of Arts degree in English, Creative Writing from San Francisco State University. In her twenties, she moved from Marin County, California to Boston, Massachusetts, where she built a career as an IT professional in database engineering. In 2004, she self-published "Ice Cracks," which became a semi-finalist in the 2005 IPPY Awards.
Alex splits her time between Grand Junction, Colorado and Guanajuato, Mexico. When she isn't writing, she's helping her partner, Lee, renovate a 450-year-old hacienda. She is mother to one beautiful daughter and many wonderful cats.
"Perfect Pitch" by Alex Hayes was released August 6, 2019 by Shaking The Tree Press (trade paperback, $14.99, ISBN 13: 978-1-59573-007-7; Ebook, $2.99, ISBN 13: 978-1-59573-006-0.)
For additional information about author Alex Hayes or The Chameleon Effect series, please contact Keri Barnum at New Shelves Books at https://www.newshelves.com/ or Alex's website at https://alexhayesauthor.com/.
Release ID: 88912515