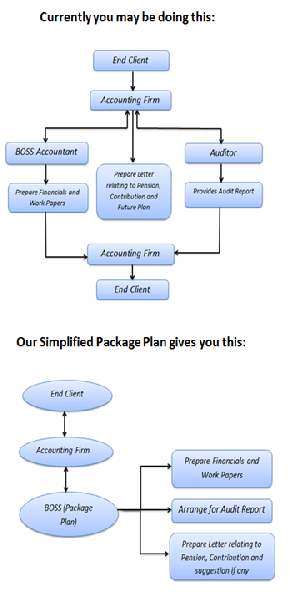 - November 11, 2014 /PressCable/ —
Lindfield, NSW, AU – November 11, 2014 – Australia's premier accounting outsourcing provider launches a new product to help clients shore up their bottom lines. Already an outsourcing one-stop-shop for Australian accounting firms, BOSS ups the ante on convenience with their new SMSF Outsourcing Total Package Plan. Supplying virtual accounts for the administration and auditing of Self-Managed Super Funds, the plans are designed to decrease additional staffing and costly training. Giving the ultimate in flexibility, SMSF outsourcing is just one more way for accounting firms to focus their attention on client relationships instead of paperwork.
Lee Court, Client Relationship and Marketing Manager for BOSS said, "We do the work with expertise. Once given the information our virtual accountants do everything from preparing the draft tax return to white label financial and member statements. They do all the administration work. They draft letters, minutes, pension calculations and the audit report. So, basically the accounting firm just brands the documentation and delivers the goods. It couldn't be more simple." BOSS virtual accountants are trained to lodge the SMSF if need be as well.
Believing that their clients should have the luxury of developing their business with limited risk, outsourcing provides just such an advantage. When it comes to growing a business or downsizing one quality is top of mind. In both instances, the cost of employing a BOSS Virtual Accountant is 47% less than in-house staff.
Fully-trained in Australian accounting standards a virtual accountant, with a minimum of five years experience, can be assigned to an accounting firm within one week.  In addition to ongoing training a virtual accountant's progress can be monitored via access to the BOSS cloud-based Work Flow Max system.
About Back Office Shared Services Pty Ltd (BOSS):
BOSS is an Australian accounting outsourcing provider that supplies full-time and part-time virtual accountants and bookkeepers to supplement accounting staff.  Streamlining operations for accounting firms, every BOSS Virtual Accountant is fully-trained in Australian accounting standards, SMSFs, tax procedures and law.
Information:
SMSF Outsourcing Total Package Plan pricing is as follows…
Small SMSF – $690 + GST
Medium SMSF – $990 + GST
Large SMSF – $1490 + GST
Release ID: 67873