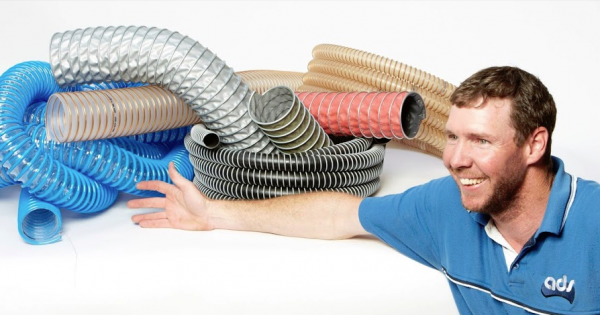 - July 19, 2016 /PressCable/ —
Australian ducting component supplier Advanced Duct Systems has developed a new and innovative online shopping cart that addresses the unique complexities of listing duct components for sale online. Managing Director Neil Southwell explained the shopping cart innovation at the recent AWISA (Australian, Woodworking Industry Suppliers Association) Conference in Melbourne.
"It's difficult to set up an online shopping cart for ducting supplies because there are an incredible variety of duct component dimensions, and each one has a different price". he said. "Common dimension variables in duct include specific diameters, lengths, and angles and the only way a standard shopping cart can accommodate all of these variations is to list the product over and over again, with the only variation between listings being the dimension and the price. This makes using the online shopping cart cumbersome and impractical, especially for people browsing the shopping cart" he said.
For the sake of clarity he then outlined an example of someone wanting to buy some straight standard galvanized duct online. "The variety of length and diameter permutations is quite significant, in fact in our product range there are 42 different combinations of straight galvanised duct he said". He then listed the dimension paramaters people could order starting with the length. There are 3 lengths, 0.5 of a meter, 1 meter and 2 meters. The diameters are 80mm, 100mm, 125mm, 140mm, 150mm, 160mm,180mm, 200mm, 225mm, 250mm, 275mm, 300mm, 350 mm and 400mm.
"That's 42 individual catalogue items for just this one duct component." said Mr Southwell. "And there's a plethora of other pieces that need to be listed including bends, branches, duct with door access, rings, flanges, gaskets, gates, valves, sweeps etc… the list goes on and on, and each one has a variety of variables, all of which affect price" he said.
The shopping cart designer, David Mollet from Melbourne based digital solutions company Click Campaigns, spoke about the challenges involved in developing the new shopping cart.
"When we were consulting with Neil and scoping the website requirements it became obvious that using a standard shopping cart wouldn't create a user friendly site, because the cart listing would be tedious to navigate with many repetitive entries. Our challenge was to create a cart whereby a buyer need only visit one single component page to select any variable for that component from a drop down menu, and have the prices for any combination of variables update live in the shopping cart, which makes online ordering infinitely easier", he said.
Advanced Duct Systems has offices in Melbourne and Sydney and sells standard galvanised duct, pneumatic tubing, powder coated duct, pneumatic conveying duct systems, stainless steel duct and flexible duct, from what Mr Mollet says is now "probably the world's easiest to use online shopping cart for buying duct". Online orders are delivered straight to the pick and pack facilities in Advance Duct Systems Cambelfield facility and clients get an order confirmation sent by email. Trade and wholesaler buyers can also get special pricing by entering a special code that presents them with discounted pricing.
Release ID: 124032