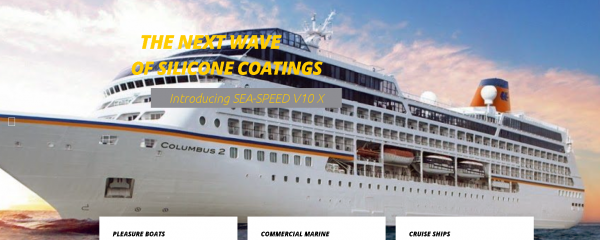 - June 22, 2020 /PressCable/ —
Seacoat Technology Australasia with headquarters in Helensvale, Queensland has announced its launch of nano silicone and silane paint and coating technology products for owners of pleasure boats, commercial vessels, and cruise ships.
More information is available at https://seacoat.com.au
The updated products from Seacoat Technology Australasia offer high-performance paint coatings for boats that are economical, efficient, and environmentally safe. This is the ultimate in hull coating technology, it is the newest evolution of our technology that has an excellent service record in commercial, military and pleasure craft applications since 2001 around the world.
The Helensvale company is the Australasian product distributor of silicone foul release coatings.
Unlike other antifoul products on the market today, that are toxic and use biocides to kill marine life, foul release coating uses its specialized silicone to cover the underside of a boat which prevents marine organisms from settling, attaching and growing. It is a true GREEN alternative to standard TOXIC self-polishing or ablative antifouling paints. It does not deplete, ablate or leach, therefore providing a 10 year warranted coating system.
The expert developers at Seacoat Technology Australasia integrate polysiloxane chemistry with epoxies and urethanes to create products that meet today's performance requirements while working towards a better environment for tomorrow.
Seacoat Technology Australasia silicone and silane paint and coatings come in a range of options for ships, tankers, yachts, and powerboats of all sizes to protect and promote hull preservation.
The silicone coatings can reduce drag on a vessel, giving it a 5-30% speed increase and fuel savings of up to 12% which leads to a lower carbon footprint. Furthermore, it is an environmentally sustainable product due to it being non-toxic to marine organisms and containing no toxic biocides.
Vessels using the silicone coating benefit from lower maintenance and repainting costs as the product has a 10-15 year life and is non-stick, making it easier to clean. The silicone coating can be applied to new hulls or retrofitted to existing ones and comes as a clear coating to preserve any coloured bottoms.
A previous customer of Seacoat Technology Australasia said: "Sea-Speed created quite a bit of interest here in Australia when we first applied it to our 24′ racing trimaran. The surface cured hard and slippery, which is great on a racing boat. If any slime started to form in a few weeks, we simply wiped it off with a cloth!"
Interested parties can find more information by visiting the website https://www.seacoat.com.au/
Release ID: 88964722