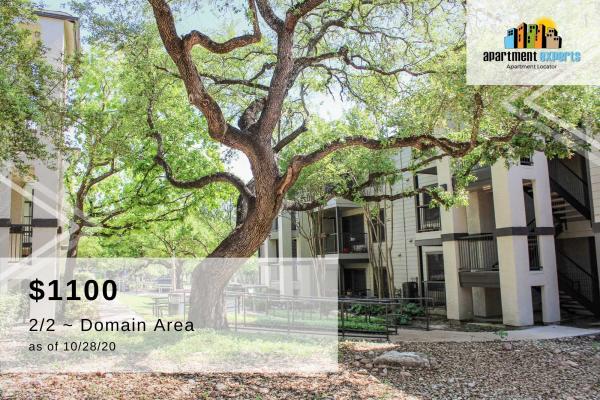 - November 9, 2020 /PressCable/ —
According to Apartment Experts, a premiere apartment finder service in Austin, Texas, more and more renters are turning to Austin's best apartment finder services to take advantage of low rents and great apartment specials.
Some of Apartment Experts' most experienced apartment finders are reporting that the Austin rental market is currently offering the lowest rents and biggest rent specials they've seen in years.
"This is a great time for housing finders in Austin!" says Jess Rodriguez of Apartment Experts, who has more than a decade of apartment rental finder experience in Austin. "We're seeing a lot more1 bedroom apartments under $900 and 2 bedrooms under $1300. Those were very hard to find before the pandemic. We haven't had downtown rent specials in years, but now we have multiple properties offering up to 6 weeks off the rent. We have more options than ever."
Frequently rent specials in Austin are not advertised on standard apartment finding websites. Apartments rely on the best apartment finders to spread the word. According to Apartment Experts, many Austin apartments are offering great rent specials like:
*up to 10 weeks free rent
*discounted rental rates
*waived or credited application and administration fees
*giveaways like TVs or AirPods
Renters are getting the picture. Apartment Experts saw their renter inquiries increase by 21% over September 2019 despite the pandemic making it harder to tour apartments. Since rent specials are often unadvertised, renters are turning to the best apartment finding websites to help them find those deals.
Many of the best apartment finders will publish the latest Austin apartment specials on their website and on social media platforms like Facebook and Instagram. Apartment Experts uses their Instagram account – ATX Apartment Locators – to keep renters informed of their options. In addition, to adjust for the pandemic and increased demand from lower rents, the best apartment finder services have expanded their service options to include virtual appointments and virtual tours. Apartment Experts now offers their virtual housing finder service on multiple platforms including Zoom, Google Meet, Facetime, and Facebook Messenger, making it much easier for the renter to complete the entire rental process from their home.
For more information about Apartment Experts apartment finder services visit https://apartmentexperts.com or the Apartment Experts Google Listing.
Release ID: 88984732