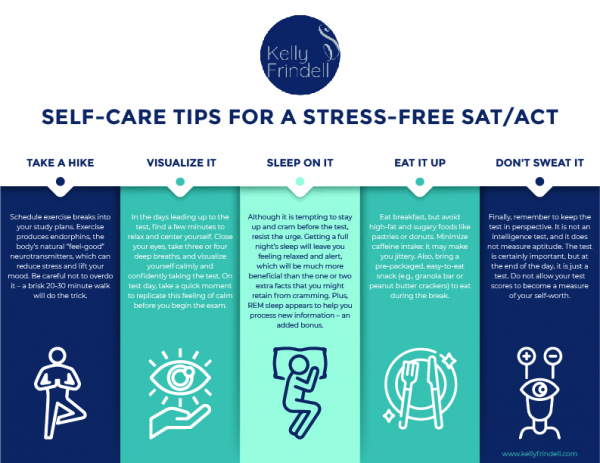 - December 17, 2020 /PressCable/ —
Dr. Kelly Frindell, a test preparation coach based in Austin, TX, announces the launch of a new report. Her infographic aims to teach students crucial self-care tips that will help them have a stress-free SAT or ACT examination.
More information about Dr. Kelly Frindell is available via http://www.kellyfrindell.com
This resource was released so students can reduce their anxiety levels in the days before their exam, which often leads to better scores. She adds that the current pandemic adds a whole layer of stress, hence the need for proper self-care.
The SAT and ACT are standardized tests that not only measure a student's academic achievement, but are also factored into their college admissions. As such, learners prepare eagerly for these tests but often feel anxious or burnt out as the exam date approaches.
Dr. Kelly's self-care infographic has been made free to all students. Interested parties simply need to visit her website to download the resource.
It offers five important tips that will help students be both physically and mentally prepared for their upcoming SAT or ACT. These are simple and actionable steps that students should ideally implement in the two weeks preceding their examination.
The first cluster of tips focuses on physical self-care, including exercising, getting enough rest, and eating healthily. The second cluster emphasizes having a positive mindset, and advocates positive visualization and taking stock of what the test really measures.
Dr. Kelly says that having a relaxed mind and body helps students make better decisions, especially when encountering tricky exam questions. It also gives them more focus, which allows them to better absorb and apply lessons during review sessions.
Dr. Kelly is a top exam preparation coach who offers private tutoring sessions for the SAT, ACT, SSAT, and ISEE tests. Releasing free resource materials is part of her endeavor to empower kids to succeed in admission exams.
She says: "Preparing for and succeeding in entrance exams entails more than just hitting the books. It also involves making sure you are in a good mental and physical state when taking the test to achieve the best results."
More information about Dr. Kelly and her tutoring services are available via the URL above.
Release ID: 88990331