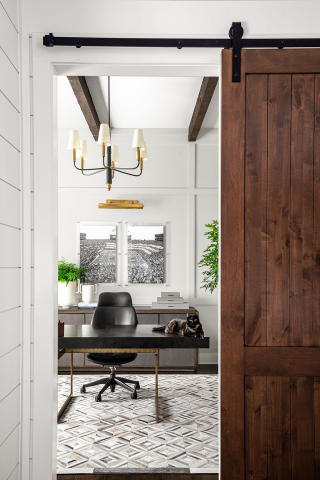 - December 1, 2020 /PressCable/ —
Jamie Naugle Interiors based in Austin, TX, continues to create beautifully refined spaces with a luxurious yet livable aesthetic. The process of home transformation can be intricate, complex, and sometimes overwhelming but with JNI's all-inclusive approach, the process is more seamless and enjoyable. From new builds and renovations both small and large to turn-key interiors, Jamie Naugle Interiors carefully guides each project in its care through all phases of design development and construction while never losing sight of the distinct needs and goals of the client.
For more information visit their website at http://www.JamieNaugle.com
Jamie Naugle Interiors' approach to design draws deeply from the relationship between form and function. When the two are integrated and thoughtfully considered, the resulting environments reflect how each space must allow movement: of energy, of light, of its inhabitants and of daily life.
With a dedication to client collaborations, Jamie Naugle Interiors works with each client to incorporate their ideas, and wants & needs, while also integrating personal belongings to create a space that is a true reflection of the client. The design team also considers the natural environment to create the perfect blend of materials and surroundings.
Rich textures, depth, scale and balance are all elements you will find in JNI's designs. Each space engages the senses of sight and touch that draws your eye around the room. Little vignettes throughout the room come together to create an overall aesthetic that feels rich and refined.
Jamie Naugle Interiors uses a step-by-step process that is collaborative, thoughtful, and focused. Every project starts by getting to know the client & their family, defining their style & personal taste and their goals for the space. Each client will have their own unique requirements and these first meetings will define them. Once they have identified the client's needs, taste, budget, timeline, and goals for the space, the design team will create concepts using a mood board to explore different ideas and the direction of the design.
Once a clear direction is defined from the mood board and concept phase, JNI works to bring the design to life through the presentation of sketches, floor plans and elevations. A detailed design plan is presented along with fabric & finish samples, and renderings to give the client the ability to visualize what the space will look like. After the design has been approved, the team manages all aspects of the ordering process. The last and most exciting phase of their design process is the installation and reveal. Depending on the size of your project, this could take a single day or a whole week. Regardless of the size of the project, the reveal is always the most rewarding part of the design process, according to Jamie Naugle Interiors.
For more information visit their website or call 512-808-0343.
Release ID: 88987736