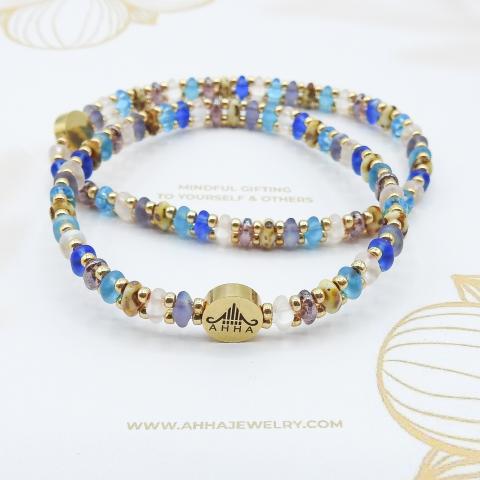 - July 15, 2021 /PressCable/ —
AHHA Jewelry has launched its new line of handmade sustainable jewelry. The Australian-based business's carefully crafted pieces include earrings, necklaces, and bracelets.
More details can be found at https://www.ahhajewelry.com
The newly launched collection offers customers an environmentally conscious and ethical alternative to a majority of mass-produced fine jewelry pieces on the market today.
Unbeknownst to most, the creation of fine jewelry can be remarkably damaging to the environment and to those involved in the production process. Many of the most popular precious metals and stones, including gold, silver, and platinum, are mined using extremely toxic methods that can negatively impact biodiversity and local ecosystems.
AHHA Jewelry's pieces are made entirely from sustainable, eco-friendly materials such as stainless steel and high-quality crystals. The retailer plans to one day incorporate recycled gold, silver, and platinum as well as ethically sourced precious stones into their jewelry designs.
Buyers can choose from an array of handcrafted pieces, including gemstone necklaces, beaded bracelets, and mosaic acrylic earrings. The business's birthstone collection features delicate necklaces and bracelets adorned with the representative crystal of one's birth month.
AHHA Jewelry makes new designs available every week. Recently, the shop released a stackable gold and blue beaded bracelet, a pair of sun-shaped earrings embellished with freshwater pearls, and a personalized family portrait necklace.
All of the company's items are produced in small quantities or as one-of-a-kind pieces to allow customers to express their individuality and uniqueness.
Individuals who order from the company will receive their piece in elegant, gift-ready wrapping. Upon request, the retailer can also include a complementary card personalized with the customer's desired message.
To further its commitment to sustainability, the company packages its items in plant-based, biodegradable materials and utilizes 100% carbon neutral shipping practices. In the near future, they hope to achieve an entirely sustainable supply chain.
A spokesperson for the company said: "At AHHA Jewelry, we believe that finding meaningful connections with the things we buy or receive is paramount for our mental health. We are on a mission to help people around the world to practice mindful gifting to themselves and others."
Interested parties can find additional details at https://www.ahhajewelry.com
Release ID: 89036452