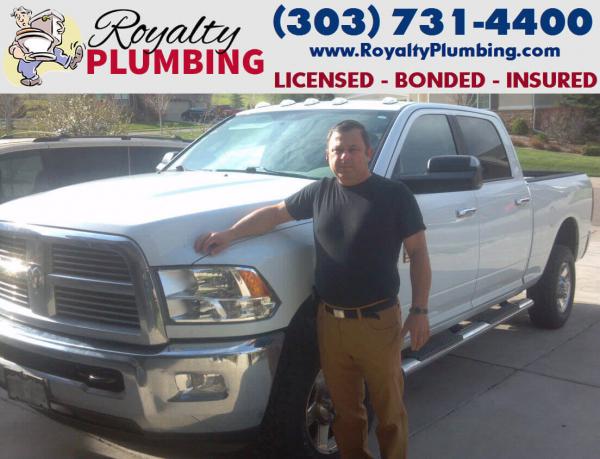 - December 6, 2019 /PressCable/ —
Royalty Plumbing, an Aurora, Colorado-based full service plumbing company owned by Leon Zokovski bringing over 25 years of experience to the southeast Denver area, has updated its service roster to include new construction and bathroom remodeling solutions, working with clients to help them avoid common plumbing problems while completing the plumbing work for their remodel projects.
"Without a doubt, one of the most important decisions a homeowner will make during a kitchen or bathroom remodeling has to do with the type of piping to be used with the plumbing, and Royalty works with customers in the midst of a remodel to make sure they get the most ideal solutions for their budget and that they avoid common issues," explains Zokovski. "Our plumber team possesses the years of experience working with this type of plumbing and understands all of the building codes, regulations and required licensing needed to get the job done properly."
For further information you can visit https://RoyaltyPlumbing.com/
According to Royalty representatives, there are several options for piping available to customers doing a remodel, with galvanized piping of the past having been replaced by copper and PVC, ultimately leading to PEX piping – considered the most affordable and flexible option available today by plumbers and homeowners alike.
"With the evolution of our environmental and productive knowledge, galvanized piping is no longer used for a myriad of reasons, and should be replaced if a home currently boasts this type of piping infrastructure," adds Zokovski. "Copper was the other alternative that many turned to over the years, and while it was a durable and reliable option, it also was the most costly. In the modern era, the PVC piping option has remained popular, but this type presents issues supporting hot water, leading to many plumbers and homeowners to opt for PEX."
Outside of remodeling projects, Royalty offers plumbing services in the areas of all general plumbing repairs, water heater installation, water heater repair, water valve replacement, gas line installation, gas lines repair/gas pressure testing, drain cleaning, snaking/rooter service, rough-ins, slab leak detection/locate/repair, sinks/faucets/plumbing fixtures, bathtubs, new showers and custom showers, toilets and urinals (all styles), garbage disposals, water lines, sewer lines and much more.
As part of Royalty's remodeling solutions, the company offers custom shower remodeling services which allow customers to choose the number of shower heads for their specific space, the size of the valves needed to produce the desired level of water pressure and other parameters, ultimately creating the shower enclosure of their dreams. What's more, Royalty staff analyzes the size of existing plumbing pipes running a customer's water supply to their bathroom, a tactic critical to the successful completion of a custom shower remodel.
"On average, each shower head puts out approximately 2.5 gallons of water a minute, so when that's taken into consideration with a customer's desire for a range of body spray nozzles and a rainfall shower head, it's about 10 to 12 gallons of water being sprayed per minute," explains Zokovski. "This is why we often explain to customers that if their pipes are currently one-inch in thickness, they will likely not be able to support the massive flow of water and will need to be changed to ¾-inch piping.
"But this is never a problem for the experts at Royalty Plumbing."
Royalty Plumbing is located at 2923 S. Jericho Court in Aurora and can be reached by calling (303) 731-4400. For more information visit their website linked above.
Release ID: 88937839