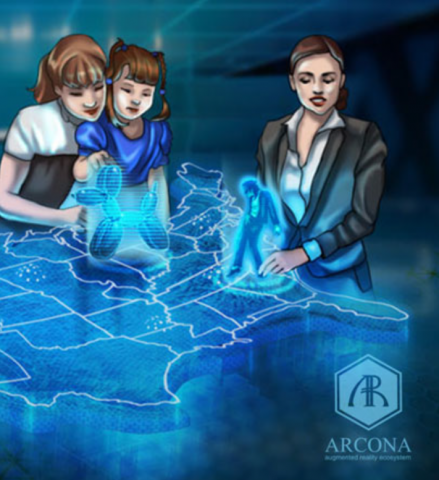 - February 17, 2018 /NewsNetwork/ —
A new ICO has been announced for Arcona, a Blockchain powered augmented reality ecosystem which merges together the real world and a virtual world known as 'The Digital Land'. The Arcona Ecosystem creates a fully-fledged digital land, consisting of a layer of augmented reality uniting the physical and virtual worlds into a single information environment.
More information can be found at: https://arcona.io
The site explains that this virtual environment is perfectly linked to the real world and is designed for everyday user interactive experience with augmented, virtual and mixed reality multimedia content. This is provided in real world locations for everyone to enjoy.
The Arcona site showcases some of the ecosystem's main features, which include remote setup, the ability to buy and sell land, as well as to build, trade, and acquire property. Arcona allows people to place virtual projects anywhere in the world without leaving their home.
This represented a whole new arena for project creation and land development. Participants are able to choose the most popular and visited places and create whole worlds on their digital land.
Within the Arcona ecosystem, acquiring land and property within their ecosystem is open to anyone wishing to do so anywhere in the world. This means that participants within the ecosystem can buy, sell, and rent out their digital land, making money on creativity, and on creating and selling the best content.
One of the benefits of the ecosystem is that the smart contract is powered by blockchain technology, guaranteeing artists protection and compensation for their intellectual property. This allows for added peace of mind, while also enjoying the automatic royalty payments made to content creators.
The primary asset of the Arcona ecosystem is the concept of digital land. It is built on the principles of Blockchain, and offers an interesting experience for a creative person, just as much as it does for businesses.
The company states: "Each lot of the digital land is associated with a specific location in the physical world. This is a place where you will be attracting many people to share with them the results of your work."
Full details can be found on the URL above.
Release ID: 302024