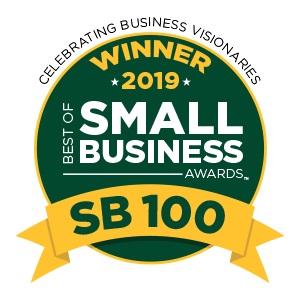 - February 19, 2020 /PressCable/ —
Digital Agent Named an SB 100 Winner in 2019 Best of Small Business Awards
The prominent and only Atlanta-based provider, Digital Agent LLC, was named an SB 100 winner in the 2019 "The Best of Small Business Awards." The prestigious award ranked Digital Agent No. 74 in the SB 100 category which recognizes and celebrates the top 100 Small to Mid- Sized Businesses in the United States.
"We love technology and solving the problems that come with it. Our nimbleness to customize and passion for making things work creates a deeper relationship with our customers," says President and CEO Howard Hunter. "We find good relationships allow for a true sense of client stewardship to emerge."
Digital Agent owes this award to many people, not the least of which are their clients, who have put their trust in Digital Agent over the years. They thank their team and partners and attribute the win to their core values:
– We solve problems
– We care
– We cover for each other
– Yes, we do all that
As Digital Agent continuously seeks to improve their services, this recognition reassures them they are on the right path.
Since its inception in 2008, The Best of Small Business Awards has maintained its premier status by spotlighting the best small enterprises in the U.S. Awards are available in nearly all categories. Ranked by Inc. 5000 as one of the fastest-growing companies, The Best of Small Business Awards recognizes the most elite businesses based on their accomplishments and growth over the past year.
Interested parties can learn more about the awards and see the full list of winners in each category here.
About Digital Agent:
Established in 1998, Digital Agent started as an Internet Service Provider (ISP.) They have evolved into an all-inclusive Managed Service Provider (MSP), ISP, Managed IT (CLEC), and Phone Service Provider.
Digital Agent delivers 100% of Atlanta businesses voice, data, network, and IT services. Our nimble size enables us to understand and customize each of our customer's networks and solutions.
More information about Digital Agent can be found online at http://www.digitalagent.net/
Media Contact:
Lori Phillips Director of Marketing & Customer Experience
Digital Agent, LLC
2300 Windy Ridge Pkwy, Suite R50
Atlanta, GA 30339
(678) 444-3007
sales@digitalagent.net
Release ID: 88947185