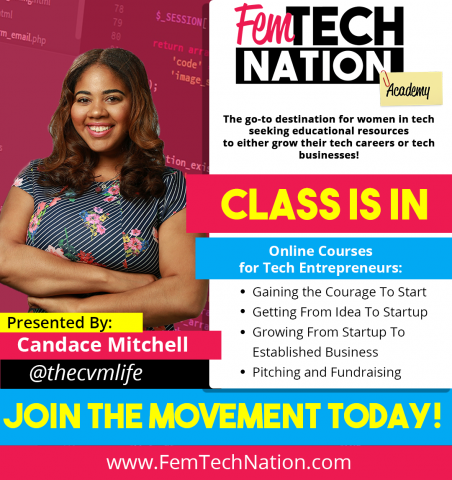 - June 26, 2018 /PressCable/ —
Technology startups are flourishing more than ever as young minds create change in ways never seen before, yet some old issues still plague this new generation. Only 17% of startups have a woman founder, and the quit rate for women is double than that of men. Female founders only received 2.2% of venture capital funding, with women of color receiving less than 1%. Those disappointing numbers shouldn't lead to discouragement, however. Support behind women in tech persevering against all odds is steadily growing and FemTech Nation aims to help boost that growth. Founded by Candace Mitchell, CEO of her own startup Myavana, FemTech Nation serves as an online gathering spot with the goal to connect, educate, and empower women interested in persevering in launching their own tech companies.
"FemTech Nation is inspired by current and aspiring entrepreneurs who have reached out to me interested in gaining the information they need to start building their startup and expand their concepts into successful, innovative businesses," says Candace. "FemTech Nation allows for this, and so much more, by becoming a home for those ambitious women who desire guidance, and want to learn the proven best practices to thrive in tech. Through FemTech Nation, I want to help as many women as possible break the glass ceiling before them and bloom into the powerful forces that they are capable of becoming– despite being in a male-dominated industry!"
The educational arm of FemTech Nation is FemTech Nation Academy, which is an online academy that allows Candace to connect with women who have a similar drive and passion, regardless of where they are in their careers and businesses. Currently, FemTech Nation Academy offers five courses that cover the different stages of "techpreneurship," providing guidance no matter where one is in their development. Students can pick and choose classes that matter most to them, and as their business progresses to the next stage in its lifecycle, they can move on to the next unit for continued help. From start to finish, FemTech Nation Academy is designed to support women through every phase of their entrepreneurial journeys.
FemTech Nation Academy online courses include:
Gaining the Courage to Start Your Business Idea
Growing From Startup to Established Business
Each module contains multiple lectures that breaks down each topic in detail, allowing participants to take notes at their own rate. Lectures are available for replay indefinitely in case students need to revisit a lesson or need words of encouragement.
Registering is easy, entrepreneurs can head over to www.FemTechNation.com to sign up and join the FemTech movement. Registration is free, and from there students can pick which FemTech Nation Academy course they would like to enroll in. For more information about Candace and her accomplishments, visit her website at www.candacevictoria.com. To request an interview with Candace, please contact Eugene Salas at esalas@braincholdassociates.com.
ABOUT CANDACE MITCHELL:
Candace is no stranger to the world of startup tribulations. The uncertainty and lack of women in the startup tech industry can seem daunting. Candace tackled that uncertainty head-on when she quit her office job and threw herself into creating Techturized Inc, which later birthed Myavana. Dubbed the modern day Madame CJ Walker by CBS46, Candace has combined technology and with her love for beauty to become an emerging industry leader. Candace's ability to succeed became apparent early on when she placed 1st in pitch competitions at SXSW Interactive, Technology Association of Georgia Business Launch, Shark Pitch Atlanta, Power Moves NOLA, and DREAM Project Conference. Her accomplishments earned her a spot on Forbes' 30 Under 30 list in 2016 in the category of retail and e-commerce and BET Honors' Next In Class STEM Honoree. Now Candace is using FemTech Nation as an extension of her coaching ability so that she can encourage, engage and connect women in tech across the world. To learn more about FemTech Nation, visit our website at www.FemTechNation.com. To learn more about Candace Mitchell, visit www.CandaceVictoria.com.
###
Release ID: 365686