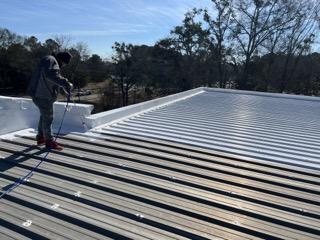 - February 23, 2022 /PressCable/ —
The licensed and insured, full-service residential and commercial roofing contractor now offers roof coating services in response to a dramatic uptick in consumer demand. These coatings can be a cost-effective alternative to full roof replacement for aged roofs that are still in good condition.
More details can be found at https://colonyroofers.com
Colony Roofers' updated commercial offerings for roof coatings allow business owners the security of both durability and longevity. The company works with acrylic, polyurea, and silicone coatings, all of which are most applicable for metal roofs.
Roof coating is a flexible roofing membrane that is placed in a fluid. The roof coatings market is growing at roughly 8% annually and is expected to reach a market value of $1.5 billion in the next few years. It is intricately tied to the market for commercial metal roofing which is expected to reach $4 billion. Rising environmental considerations, as well as the capacity of low-glare metal roofs to reflect over 80% of solar heat, enable business owners to conserve energy and lower operational costs.
Colony Roofers offers acrylic coatings, which are the least expensive and work well in most climates. However, they begin to lose thickness as they weather. Polyurea coatings hold up better but are more expensive. Silicone coatings are the sturdiest of all and can withstand any kind of weather – but these coatings also hold in dirt and lose their reflectiveness over time.
The company can also offer a metal/foam roofing combination – or a roof coating – that gives property owners added UV protection, as well as improved insulation that will save significantly on energy expenses. An application of rigid foam backing also muffles noise, a quality prized by many business owners. Furthermore, a foam coating minimizes the chance for rust and leaks and thus the need for any repairs later on.
Colony Roofers is a locally owned and operated firm based in Atlanta that specializes in residential and commercial roofing systems. Employees are hand-picked for their experience, dedication, and integrity. Colony Roofers aims to give great quality and value to its clients. Long-term product warranties are provided by the company to back up its work.
One recent customer commented: "Very polite, professional and a wonderful job. I especially liked that they sent pictures of the state of the roof before and after the service. Highly recommended them."
More information can be seen at https://colonyroofers.com/commercial-roof-coating
Release ID: 89065475