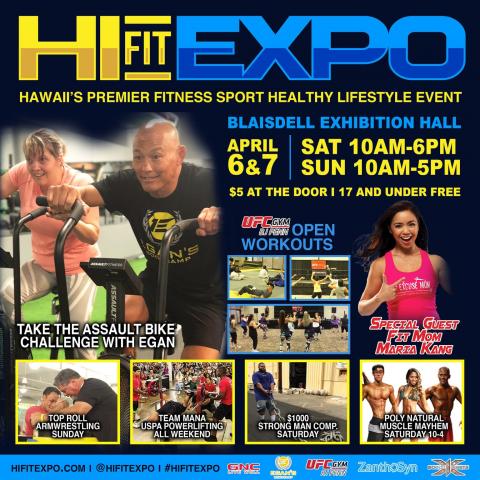 - March 28, 2019 /PressCable/ —
Hawaii's 5th Annual HI FIT EXPO at Blaisdell Exhibition Hall this April 6 & 7 2019
The HI Fit Expo 2019 presents Egan's Inoue ASSAULT BIKE CHALLENGE! The Challenge is super simple, WHO will burn the most Calories within 1-minute time? The winner will take home super exciting prizes from our generous partners:
1st place winner: Assaut Bike Challenge 2019
– Assault Bike from Total Fitness USA, for Men and Women winners
2nd place Winner: Assaut Bike Challenge 2019
$500 GNC gift certificate and a 3-month supply of Zanthosyn
3rd place Winner: Assaut Bike Challenge 2019
6 month membership at UFC Gym.
Egan's Assault Bike Challenge will get you inspired to do a healthy lifestyle while promoting the atmosphere of Sport. Assault Bike Challenge is a favorite training for weight loss as well.
DID YOU KNOW? While rowing burns around 12.5 calories a minute, and running and skipping uses up to 11 and 9.5 calories respectively, the assault air bike gives the ultimate burn. For the record, American personal trainer Rob MacDonald holds the current world record by burning 87 calories in a minute on the assault air bike.
Have a chance to show how much CALORIE YOU WIL BURN at Hi Fit Expo's ASSAULT BIKE CHALLENGE!!
Hi Fit Expo has a lot of activities to offer for you, your Family and especially your kids
THE LISTS OF HI FIT EXPO 2019 COMPETITIONS:
All day Saturday & Sunday – UFC GYM Kids Zone
UFC GYM Open exercise classes – TBD
All day Saturday & Sunday – Team Mana USPA Powerlifting
Saturday – Strongman Hawaii Competition (Weigh-ins at 8:00 am. Contest starts at 9:00 am outside in front of the exhibition hall, 10 am contest moves inside)
Saturday- AAU Middle School, High School, and Collegiate National Weightlifting Championships
Sunday – 2019 Hawaii Fit Expo Weightlifting Open
OPEN PARTICIPATION FOR HI FIT EXPO GUESTS:
Sunday – Top Roll Arm-wrestling (weigh-in 10:00am-11:30am. Competition at Noon)
Polynesian Muscle Mayhem – WNBF Pro Qualifier (Sat. 4/6/19 In the Pikake Room for a separate cost w/free entry to the Hi Fit Expo)
9:45 am Athlete meeting
10:00 am Doors open & seating music begins
10:30 am Show starts
1:00pm Intermission
1:30 pm Athletes enter, seating begins, music
2:00 pm Event Finals begin
The Hi Fit Expo is definitely looking forward to see you all for yet another amazing experience that you will definitely enjoy.
For complete information go to:
Release ID: 496612