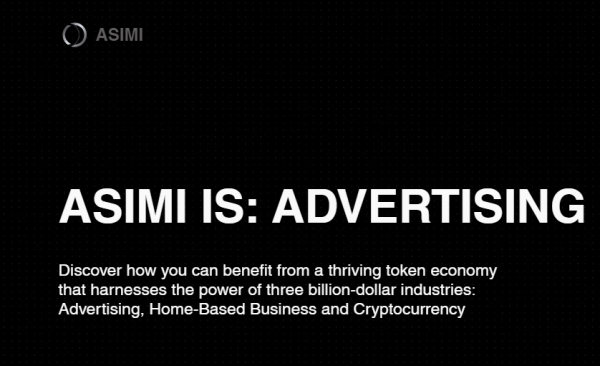 - July 13, 2020 /PressCable/ —
Hashing Ad Space, an online marketing platform, has released its Asimi Coins minting services. The service allows businesses to pay for their marketing services using Asimi coins and also generate or "mint" Asimi through watching ads.
For more information visit http://earnmoneyininternet.com.
The recently released services utilize the Asimi token to pay for services. As such, clients are required to purchase tokens before they can do business with Hashing Ad Space. The online platform also allows consumers to acquire Asimi tokens by watching the ads it generates for its clients.
Hashing Ad Space creates ads for a quality audience because they attract people with common interests. Due to the earning potential created through their ad watching portfolio and the knowledge that everyone is interested in home-based businesses in some form, they have a diverse audience.
Their audience interests include home-based business offers, marketing tools, marketing resources, training for online business, and Cryptocurrency related offers.
They understand that quality advertising is necessary for a successful online entrepreneur. As such, they provide the highest lead generation possible from a very organic, interest-based audience.
Their Asimi minting services is one of the most unique aspects of online marketing to ever be introduced. It allows business owners and consumers to earn or "mint" Asimi coins with a free account.
Though the account is free, staking Asimi coins is necessary for minting to occur. When Asimi coins are bought and staked, 100% of what is staked is returned along with the profits generated from watching the advertisements.
As a business owner, it is possible to purchase coins, watch ads, and use the profits to pay for Hashing Ad Space's marketing services.
The Asimi token is in the same bracket as cryptocurrency and can easily be converted, traded, or sold on the financial market. It is a commodity that has been specifically designed for the world of online marketing.
Interested parties can click on the link above for more information.
Release ID: 88968208