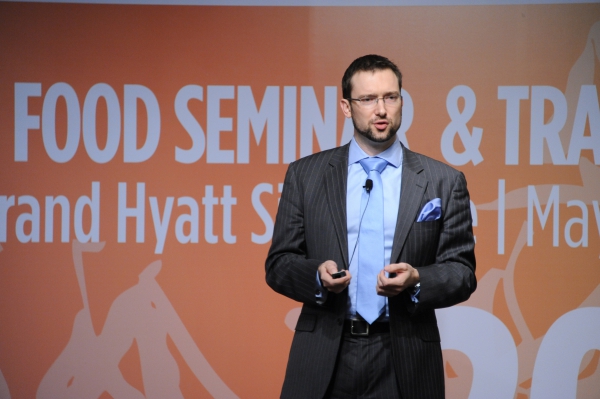 - April 18, 2016 /PressCable/ —
A keynote presentation on 'How to Avoid the New Product Abyss, Stand Out and Win in the Complex Asian Markets" by the prominent food branding and innovation specialist Sam Waterfall at the first ever "Food Vision Asia" event, has been announced.
More information is available at http://thehmt.com.
The "Food Vision Asia 2016″ is a leadership forum focused on the unique dynamics, strategies and commercial opportunities for market entry and expansion through collaborative partnerships and distributed supply chains in the emerging Asian food & nutrition industry.
The event, taking place in Singapore, in April 2016, will offer a comprehensive programme of presentations, discussion and debates with some of the industry's innovation, R&D, product development, marketing and business strategy leaders.
Among the speakers invited is the prominent Healthy Marketing Team senior consultant, Sam Waterfall, delivering a keynote presentation on how to navigate new product launches and 'Avoid the New Product Abyss' in an environment of increasing local and international competition and ever more discerning consumer base in complex markets such as Indonesia, Thailand, Vietnam, Malaysia and the Philippines.
Sam Waterfall has extensive experience guiding multiple food and beverage companies to innovation and branding success in Asia since the opening of the Healthy Marketing Team's Asia Pacific offices in 2014. He is also the co-author of 'The Four Factors for Growth Market Success' and has previously held branding and commercial marketing positions with Procter & Gamble, Walgreens Boots Alliance and Kraft Foods.
The food branding and innovation specialist will share in his keynote presentation several valuable success fundamentals for food & beverage brand owners or marketers, including identifying which of the 4 "innovation spaces" to launch into, supporting the brand promise and influencing consumer purchase or testing the success potential of a product concept with a 10 minute pre-launch check.
Additional information on Sam Waterfall's keynote presentation, taking place on April 28th, and the overall objectives or programme of the "Food Vision Asia" leadership forum can be consulted at http://www.foodvisionasia.com/.
More information on the Healthy Marketing Team food and nutrition brand innovation, positioning or renovation services and multiple examples of projects carried out by its experienced team of consultants along with the 'The Four Factors for Growth Market Success' e-book, are available at the website link provided above.
Release ID: 111132