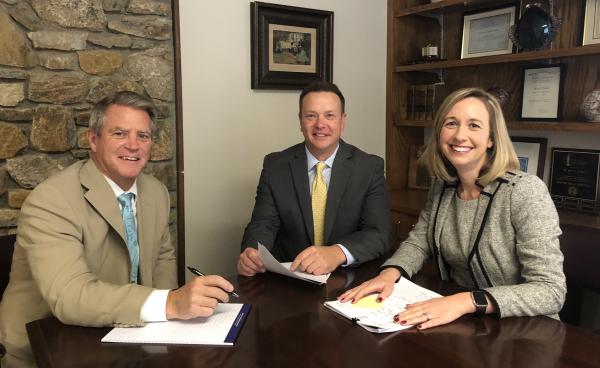 - December 1, 2019 /PressCable/ —
Fisher Stark, P.A. is a well-known personal injury law firm in Asheville NC, that has been serving the community and all of western North Carolina with over 40 years of experience. The firm recently moved to a new office near the heart of Asheville, NC, where they will be even more accessible to their broad client base. They hope the new location is more convenient and even more welcoming than their previous office.
Fisher Stark helps clients in a number of personal injury matters, including wrongful death, traumatic brain injury, trucking accidents, arbitration, catastrophic injuries, condemnation, car accidents, product liability and pedestrian/cyclist litigation. Where other law firms tend to settle, Fisher Stark isn't afraid to go to trial if it's best for the client. Perry Fisher, one of the firm's partners, says, "If a lawyer is not capable of going to court, their clients rarely get the best recovery."
Always striving for what's best for their clients, the new offices are designed to be comfortable and welcoming for current and potential clients. "We understand the legal world can seem intimidating," Megan Silver, a top attorney at Fisher Stark, explains, "our new office is a safe place for people affected by injuries to come to discuss their situation and learn what Fisher Stark can do for them."
Fisher Stark views every client relationship as a long-term relationship. Their staff is trained to ensure every case proceeds as smoothly as possible from the initial free consultation to the final resolution. "We care deeply about our clients and know that some legal processes can be emotionally and financially taxing," Brad Stark of Fisher Stark relates. "That is why we work hard to help you find emotional and financial healing in the aftermath of an injury."
Asheville, NC personal injury lawyers Perry Fisher, Brad Stark, and Megan Silver have settled in nicely to their new offices. They have received excellent feedback about their new location. Centrally located, it is easy to get to from anywhere in Asheville and the surrounding cities. They expect their client base to grow even more, though they are selective about which cases they take on.
Fisher Stark, P.A. takes a discerning approach when selecting cases to ensure their full attention goes to the cases they pursue. They believe every personal injury case deserves the time and resources needed to maximize a positive outcome for their clients. The injury attorneys at Fisher Stark are not interested in "good enough", but truly want the best results for their clients.
The new office of Fisher Stark, P.A. is located at 99 McDowell St, Asheville, North Carolina 28801. Contact them today for your free consultation at FisherStark.com or call 828-505-4300. Click here for directions to their office: http://bit.ly/fisher-stark-gmb
Release ID: 88936689