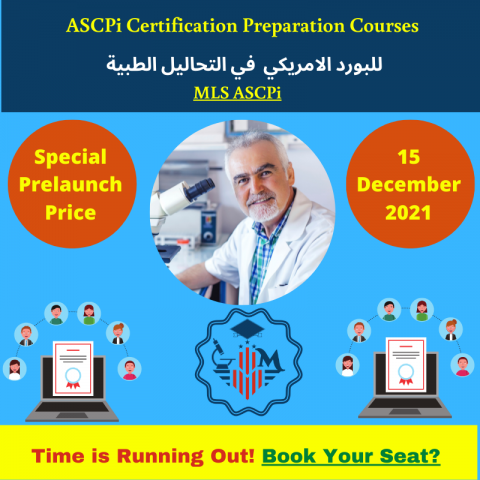 - November 26, 2021 /PressCable/ —
Medical Laboratory Scientists International Academy (MLSi Academy) introduces an online ASCP certification program to prepare medical laboratory professionals to apply for the ASCP Board of Certification Exam. The ASCP (American Society for Clinical Pathology) certification program is an online course that will assure the proficiency and competency of medical laboratory personnel. The preparatory courses begin on December 15, 2021, and international students are welcome.
The MLSi Academy ASCP certification preparation online is developed to support the ongoing professional needs of reliable laboratory professionals and pathologists around the world. The MLSi Academy preparatory classes are available in the following programs; Accredited MLS ASCPi (Internationally Accredited Certification Program by ASCP); MLS ASCPi; H , C, M, BB (ASCPi); S ASCPi; Technologist ASCPi; and MLT ASCPi. The ASCP certification programs are eligible for anyone graduating from the Faculty of Science (Microbiology, Chemistry, Biology, Biochemistry, and Molecular Biology), Faculty of Medicine & Veterinary Medicine, and Faculty of Applied Science (Laboratory). The preparatory classes duration are from 3 months (72 hrs) to 12 Months (300 hrs).
If you are searching for ASCP certification program near me, Medical Laboratory Scientists International Academy (MLSi Academy) offer such programs online. Pathologists and medical laboratory professionals around the world can take the preparatory courses online at MLSi Academy with Special Pre-launch fees. The preparatory classes fees start from 4,000 Egyptian Pound to 18,000 Egyptian Pound. It's quite affordable for students who join right now. The registration process is simple. Students can visit MLSiAcademy.com and register for the preparatory courses based on their interests.
Join the preparatory courses right now, and get many advantages, including six hours of live lectures per week, online video conference platforms, recordings of all lectures, a study course, ASCPi BOC Ultimate Guide bonus, and more.
MLSi Academy (Medical Laboratory Scientist International Academy) is a top-notch ASCP BOC Exam course provider. The academy is based in based in California, USA with 2 offices in KSA and Egypt and its students and graduates are scattered worldwide. The Academy is specialized in providing a prominent preparatory class with international standards for pathologists and medical laboratory professionals. MLSiAcademy aims to help advance its students' careers through high-quality preparatory courses at a competitive cost. For more information about the academy and its ASCP Certification Program, please visit the bilingual (English/Arabic) site MLSiAcademy.com.
Release ID: 89054510