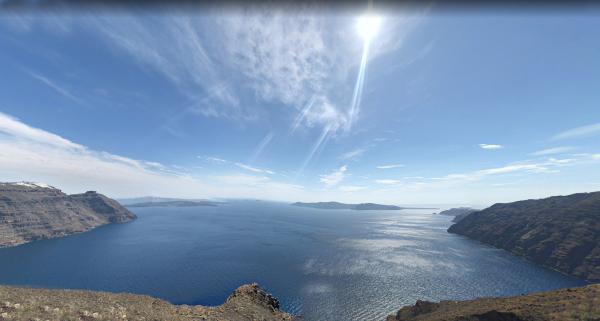 - June 23, 2020 /PressCable/ —
On February 18, 2020 a newswire went out about an amazing piece of property for sale in Santorini Greece. The title of the newswire was: A-Listers And Hotel Moguls Start Bidding Frenzy For Top Prize In Mediterranean. You can read more about it here.
That property officially went up for sale on March 1, 2020. Although offers and bids came in from all over the world doubling and tripling size, things came to a screeching halt when the Covid – 19 virus took over the globe.
Although the world was facing an unprecedented complete shutdown and closure at the time, there were some major developments that surfaced during the quarantine that miraculously increased this plot of lands value in such a significant way.
Originally the property in Santorini had the ability to build up to 24,000 ft.² of its 10 acres zoned for commercial or residential usage. During the quarantine , the planning commission of Santorini was challenged by independent engineers hired by the lands owner and the outcome it has been confirmed that the actual allotted space permitted for construction for residential or commercial usage and free from any archeological restrictions has increased to over 100,000 ft.² This officially proclaims this slice of heaven Santorini's last and only plot of land available this size.
"I've been on every inch of this island multiple times. From showing property, to hiking, and just exploring. I've never seen a better view than from this location."
Vasiliki K. – Realtor
"The view and size of this property is like nothing I've seen on Santorini. Definitely nothing that's available. Anything built here would be a dream come true."
Jonathan P. – Architect (Mykonos, Santorini, Paros)
Greece has officially reopened its country and economy with the lowest mortality rate out of any country in the world during the pandemic, Greece was praised for its efforts, and now those efforts are paying off. Businesses have reopened, tourism has begun to rebuild and as of July 1 the airport will be fully open from all countries to enter and resume their travel plans making Greek Islands the number one summer travel destination .
Although private bidding has been in progress since June 1 , 2020, public offers are now being accepted and the interest has increased at an outstanding rate given the current state of the world. Real estate experts are urging their high profile clientele to seize this opportunity which expects to triple in value over the next 10 years.
With the land boasting a little over 10 acres, a 360° unobstructed private view of the Mediterranean, the second highest peak in Santorini, and currently the largest plot available for sale on the island of Santorini , the sale of this property will go down in history.
Visit the link to see for yourself just how magical this piece of land is . https://bestviewintheworld.com
Release ID: 88964739