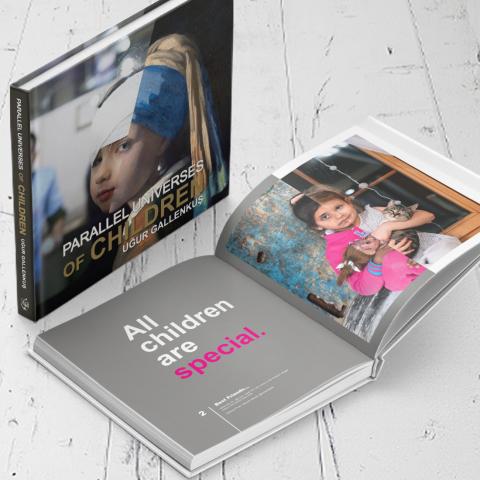 - November 21, 2020 /PressCable/ —
As the global pandemic has pulled international injustices into sharp relief, the lives of many have been thrown into precarity while others have begun to question realities they once took for granted. Artist Ugur Gallenkus and publisher Arzu Tunca, also the artist's manager, chose to debut Parallel Universes of Children in this moment, knowing that its message was more urgent than ever—we have too often ignored the inequalities facing the world's children, and we must begin to pay attention. The book, a beautiful 11 x 11 inch, 108-page hardcover volume, acts as both a call to action and a tender meditation on the preciousness of our youngest, most vulnerable citizens alongside the suffering so many of them endure. It features 50 collages from Gallenkus' moving, ongoing series about the starkly different realities inhabited by children around the world. Parallel Universes of Children aims to make a difference in how we understand children's lives and the social disparities that separate those who live in privilege from those who are oppressed. The book officially becomes available on Nov. 20, 2020, World Children's Day.
Gallenkus, an Istanbul-based digital artist, considers his art a humanitarian endeavor as well as an aesthetic one. The collages in Parallel Universes draw from a range of source material, including the work of some of today's most intrepid photojournalists. By contrasting images of realities both foreign and familiar to contemporary viewers, Gallenkus touchingly depicts a range of intensely relevant issues affecting today's children: from hunger to poverty, war, child trafficking, immigration, healthcare, and education. In Earning Play, a child in fresh, clean clothes plays at a park while two equally young and innocent children work at a factory in Fatullah near Dakka in Bangladesh, moving bricks—for each 1,000 bricks, they earn less than one U.S. dollar. Bathing at Peace, Bathing at War contrasts a pristine porcelain bathtub with a tub in Gaza, in which a father bathes two girls amidst the rubble of an airstrike. In Learning to Trust, a child with dengue fever in Jalozai, Pakistan reaches across a lush green background, his fingers nearly touching the muscular arm of God as depicted in Michelangelo's Sistine Chapel mural.
Produced on artist-print quality paper, the book offers a carefully crafted, memorable pictorial experience, but it also endeavors to be more than that. The book takes the United Nations Convention on the Rights of the Child, enforced since 1990, as its foundation, aiming through these 50 collages to convey the essential rights each child should have, regardless of their circumstances or geography. Each collage represents one of the U.N.- determined rights of children and is accompanied by statistics indicating the pressing realities putting children in danger world-wide. This data reminds us that we all share responsibility for making our world better for its children and protecting their rights to nourishment, safety, happiness, and so much more. In Gallenkus' words, those living and struggling in developing countries, "have every right to feel as empowered and peaceful as those in developed countries." Moreover, those of us who read this book have a responsibility to act to protect our world's most vulnerable inhabitants.
Parallel Universes of Children book is available to purchase on ugurgallenkus.com as of Nov. 20, 2020.
About the Artist:
Born in 1990 in Niğde, Turkey, Ugur Gallenkus completed his primary and secondary education in Istanbul, where he now lives and works. In 2013, he graduated from Anadolu University's Department of Business Administration. His work has been featured in Juxtapoz Magazine, DIY Photography, and My Modern Met and the reach and visibility of his project continues to grow: in September 2020, Gallenkus exhibited his collages at the Bifoto Fest in Sardinia, Italy, and he has 2021 exhibition scheduled in France, Italy, and Poland, as well as in Turkey. Gallenkus recently collaborated with philanthropist Dominika Kulczyk of the Kulczyk Foundation to paint seven murals in Warsaw, Krakow, Lodz, Wroclaw, Gdansk. Additionally, in July 2019, the United Nations Development Program used five of his collages for a social media campaign, and, during the global COVID-19 crisis, he crafted collages for the U.N. Sustainable Development Goals Action Campaign, highlighting the relationship between health, social and economic inequalities, and climate change.
About the Publisher:
Arzu Tunca's Life IS Publishing is an independent, woman-owned publishing house based in Los Angeles, California. Tunca, the Turkish-American author of several children's books, founded the press in 2015 and also serves as Ugur Gallenkus' manager. She supports projects driven by a cause, with the intention of publishing beautiful books that generate awareness campaigns. Tunca holds a degree in Communications from Marmara University in Istanbul, Turkey and co-founded an interactive agency with one of the biggest e-mail marketing companies in Turkey, before leaving the corporate world and her life in Turkey to immigrate to Los Angeles and pursue the creative, inspired work she does now.
Release ID: 88986636