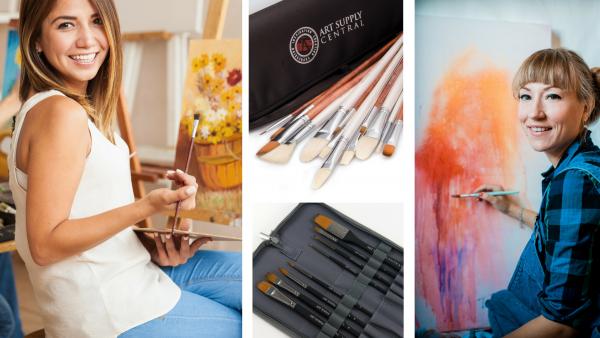 - May 31, 2018 /PressCable/ —
Art Supply Central is celebrating its 4 year anniversary and reveals some of its big wins and challenges it faced getting this far. More information on the business can be found at https://www.amazon.co.uk/d/Paintbrush-Sets/HandMade-Superior-Synthetic-Watercolour-Guarantee/B00KEW480M
Art Supply Central is celebrating their fourth anniversary, which commemorates 4 fantastic years of growth and expansion, now selling in 27 countries years across the UK and Europe. This is a huge milestone for the family run, UK-based art paint brushes business, which has provided art paint brushes and supplies to artists and budding amateur painters since 2014.
Art Supply Central got it's start in 2014 when founder Kieron Penrose and his wife became increasingly frustrated with their hobby, struggling to find affordable high quality paint brushes which could be used with both oil paints and acrylics. The business started when the founder sourced his own set of oil paint brushes and friends asked if they could also get a set for their own use!
One of the earliest challenges Art Supply Central faced was finding a supplier with the same values and a tradition of high quality, handmade brushes.
While every business of course faces challenges, some, like Art Supply Central are fortunate enough to enjoy real successes, wins and victories too. Once such victory came with consistent positive feedback from local UK artists and bulk orders from an art school in America.
Kieron Penrose, co-founder at Art Supply Central was also quoted when discussing another big win. "One of the high points of Art Supply Central's history so far was keeping up with increased demand and requests from overseas markets, eventually finding a willing and suitable distributor in Amazon, enabling us us sell on-line so we could keep overhead costs manageable and continue to expand throughout Europe.."
Art Supply Central's Founder, Kieron Penrose says "We're delighted to be celebrating our 4th Year Anniversary. I believe the secret to getting this far in business today is listening to our customers and implementing consistent product improvements based on this feedback."
Art Supply Central currently consists of 3 employees and has big plans for the upcoming year. One of their core objectives is to provide a range of high quality, affordable art paint brushes for budding artists who like to create and express themselves on canvas.
Art Supply Central would also like to thank friends, customers and all its partners for their well wishes on this happy occasion.
More information on the business can be found at https://www.amazon.co.uk/d/Paintbrush-Sets/HandMade-Superior-Synthetic-Watercolour-Guarantee/B00KEW480M
Release ID: 353282