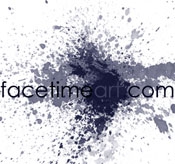 - July 23, 2016 /PressCable/ —
Art Lovers, Artists, Galleries, Interior Design, Home Decor shoppers looking for the latest information on art are invited to subscribe to the all-new YouTube channel by FacetimeART. This new channel promises to provide expert guidance and information on artworks, on a regular basis, as well as new releases and how-to videos for budding artists.
This new YouTube channel was created specifically with the needs of artists and art galleries and interior designers seeking original abstract art in mind, and FacetimeART welcomes input on which topics to explore.
KR Moehr, Artist at FacetimeART said: "This channel is for art lovers, collectors, artists looking for tutorials and galleries as well as interior designers seeking art for their projects."
She goes on to say: "The aim of the new YouTube Channel is to expose and promote original art. The more feedback viewers provide, the better to serve the art audience.
Anybody interested in Art and current FacetimeART fans and supporters, can subscribe to the YouTube channel here https://www.youtube.com/user/kmoehrART/
Some of the planned subjects for upcoming videos include:
Original Abstract Art Paintings – Artwork by Tucson Artist KR Moehr Art Tutorials – Simple step-by-step art instruction for artists Art for Interior Design – Creating a feeling in a room with art
New art by KR Moehr includes WANTED, a highly-textured original modern landscape on gallery-wrapped canvas. This 40″ x 40″ artwork is available on http://www.facetimeart.com. Also, just posted is Meet Me at the Dock, a large waterscape of muted blues, greys and white on heavy, wrapped canvas. This artwork can be seen at online galleries and at the artist's site. Smaller artworks are also available at the Etsy store: ArtLovebyKaren. KR offers original art paintings, ACEO and limited edition prints.
Ms. Moehr's works can also be seen at upscale hotels and restaurants and corporate collections. She has also been chosen to be included in this year's ACA art show.
Recently sold works include Ascend, a modern abstract, Versed, a contemporary minimalist landscape, Falling, an abstract painting and Blue Pearl, a modern artwork.
Further details on the channel, the direction and other information on FacetimeART itself can be found on their website: http://www.facetimeart.com
Release ID: 124603