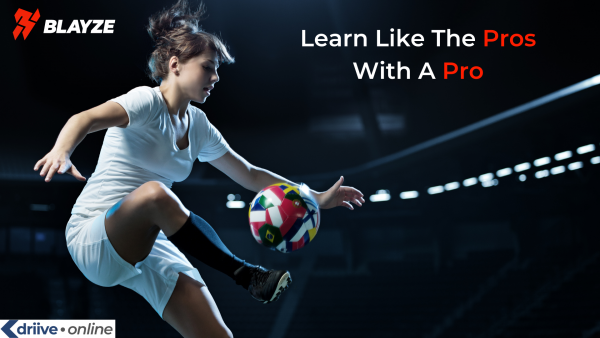 - November 8, 2020 /NewsNetwork/ —
Blayze.io released a complete virtual soccer coaching program for teenagers, with a focus on Arlington, Virginia and Berkeley, California. Featuring completely personalized virtual coaching sessions for both boys and girls, the program aims to provide an effective training option adapted to the current social distancing recommendations.
More details can be found at https://blayze.io/ip/soccer-driive
The latest announcement aims to respond to the increased demand for virtual soccer coaching programs, as parents and coaches are looking for ways to comply with the latest CDC and WHO recommendations.
Aimed at teenagers between the ages of 12 and 18, at all experience levels, the program is based on video assessments of soccer techniques. Students will record videos of themselves working on their technique, upload the videos and receive expert technique review and analysis from their Blayze coach.
Players will benefit from expert tips on the key areas of improvement, effective strategies to reach their desired results, and general tips on integrating the new skills in their game. Working with an expert online coach allows young athletes to make significant progress towards reaching their unique goals.
For a preview of one of the soccer sessions, please visit https://blayze.io/education/soccer-blayze-coaching-session-preview
All training programs are completely self-paced and fully customized according to the needs of each student. There is no strict schedule and no constraints in terms of video availability. Players can learn whenever and wherever they want, and they can re-watch the coaching sessions as many times as needed.
More information on the coaching company's soccer sessions can be found at https://www.facebook.com/BlayzeCoaching
A spokesperson for Blayze stated that the company aims to provide an affordable alternative to in-person coaching. The virtual sessions are led by some of the world's top soccer coaches and are available for as low as 5% of the costs of expert in-person coaching.
Available coaches currently include Olympic Gold Medalist soccer players, MLS and Collegiate coaches, and NSWL stars. The program is spearheaded by Blayze co-founder Dion von Moltke, a former race car driver and championship winner.
To ensure high standards of quality and professionalism, Blayze offers a no-questions-asked money-back satisfaction guarantee.
Interested parties can find more information by visiting the above-mentioned website.
Release ID: 88984789