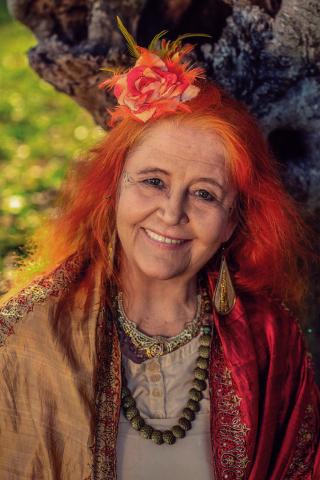 - January 11, 2022 /PressCable/ —
Hear and express the words of the Creator Beings
Learn to listen within and bring forward the messages from the Creator Beings who dwell in the Heart of the Cosmic Central Sun
Sally Pullinger has been a full trance medium for 46 years, and a Priestess of the Goddess for 20 years. Originally she worked only with her guide Ascended Master Chung Fu. However over the last 20 years many spirit beings have made themselves known to Sally's spiritual community, beings coming forward from high frequencies of light within the universe.
For the last seven years Sally has been experiencing the Presence of Goddess coming fully into her body in her Spirit Temple. Goddess always makes sound and song when She comes through, calling Herself Isa Isa, often speaking first in Her Star Language, then coming forward to speak in English.
Goddess has called Sally forward to offer a special training to those who are called to work with GoddessGod in any or all of Her Forms and Names. Whether you experience the Divine Presence as feminine or masculine, Isa Isa is calling many women and men forward to bring through the Divine messages for all to hear from the Source of All that is.
Are you feeling the call to Divine Service, to helping women and men rise up out of the fear paradigm and strengthen their bodies, hearts and minds to be vessels for the creation of the Golden Age upon this earth, a Golden Age based on Love Peace Compassion Truth Unity and Harmony?
Would you like to better understand how to become a channel, vessel, medium, oracle of the Divine Beings who are calling you from within?
Or are you already experiencing this Presence within you? Would you like to learn how to translate Divine Presence into vocal expression that can be received by those on earth who come to you for help, healing and understanding.
Sally has a few places left in her online self-development course "The Way of the Priestess/Priest Oracle".
The basic entry requirements are that:
*You love Goddess/God
*You have spent at least one year of your life becoming accustomed to working inside yourself and on yourself; training and developing your self-understanding; healing; connecting to your soul
*You have met some of the shadow aspects of your being and been involved in your own healing journey
*You understand the great potential of connection to the Divine Source that lies within you
*You are wiling to be in an attitude of loving surrender to the Divine Essence at the centre of your being.
Please click below to find out more about Sally's course.
The Way of the Priestess/Priest Oracle
Priestess of Goddess
Sally Pullinger
Release ID: 89059499