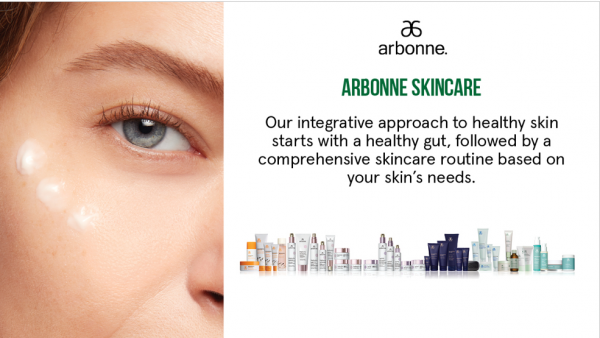 - May 23, 2021 /PressCable/ —
Following their Global Trade Conference last week, Arbonne clients and representatives are still celebrating the release of fourteen fabulous New Arrivals. Michele Lopes, Director of Field Training and Communication at Arbonne, describing their new Illuminating Skin Therapy Concentrate says: "The magic of this potion comes from the stabilised form of Vitamin C that it contains. We call this the Mercedes Benz of Vitamin C, because it doesn't degrade, maintaining potency even when combined with other creams, serums and lotions within the Arbonne range. Just a couple of drops, used twice a day, has produced enviable results amongst those who have tried it."
Last year Arbonne achieved 40 years of sustainable, cruelty free, vegan skincare and nutrition. The company's founder was Petter Mork, a pioneer who recognised the value of clean, vegan skincare long before it was a well-known concept. Arbonne's promise to their clients is complete peace of mind when using any and all of their products. The company has recently obtained the cherished B Corporation Certification, meaning that it is 100% compliant with the highest standards of verified social and environmental performance, public transparency and legal accountability. Arbonne is proud to balance purpose with profit and its stated mission is "We Empower People to Flourish with Sustainable, Healthy Living".
Executive National Vice President Brittany Trent says: "I'm so excited about our new Built for More Discount Programme. We want to ensure that we are constantly adding value to our Preferred Clients' lives. Customised special value sets can now be built by discussing requirements and choices with your Independent Consultant. Arbonne Consultants will always strive to provide the best advice at the best price points for their clients. This new discount programme ensures that they can do this quickly and easily."
Discerning consumers familiar with the Health and Wellness market will probably have noticed how purveyors of skincare and nutrition often
produce attractive looking products for which dramatic claims are frequently made. But upon examination, consumers may be disappointed to learn that these products have either been tested on animals, contain harmful ingredients or that the manufacturers make claims about constituents and composition that do not stand up to close scrutiny. Not only is today's consumer well informed about carcinogens and the benefits of organic products, but more and more are demanding products that do not involve cruelty to animals.
Once clients have sampled Arbonne's high quality, guaranteed products, they recognise the numerous benefits available, in terms of luxury, value for money and noticeable results – they keep coming back for more. Arbonne chooses to continually bring exciting new skincare and nutrition products to market because they listen to feedback from customers and strive to deliver what's demanded.
Michele Lopes also said, "We feel very strongly about choice, sustainability, innovation and transparency. We strive to give our customers peace of mind together with luxury and value for money. All of our exciting New Arrivals were developed in response to clients' needs and suggestions. We want them to know that we are listening, and so we have hundreds of thousands of happy, satisfied customers. Trying something new is always exciting and with Arbonne there is never any risk. We are proud that our customers can have complete faith in our products."
Arbonne has been in business for forty years, having been established in California in 1980. The Company is now part of Groupe Rocher. Arbonne is not found in the shops, as all the skincare and nutrition is available via a network of committed, highly trained independent consultants.
To find out more about the new releases, visit https://www.arbonne.com/gb/en/arb/annecorbin/gtc-new-products
For further information about Arbonne, including exciting business opportunities, visit https://www.arbonne.com/gb/en/arb/annecorbin
Release ID: 89018110