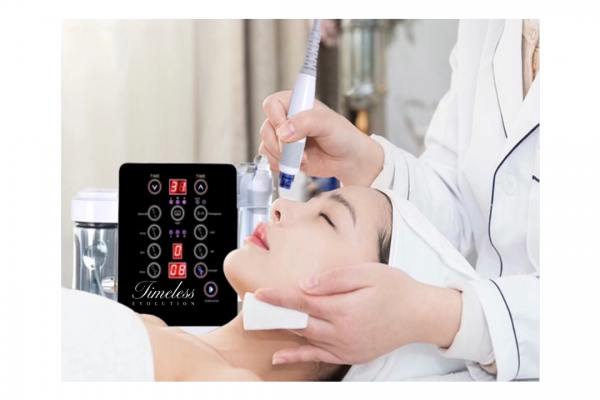 - February 2, 2022 /PressCable/ —
As opposed to traditional needles, the updated unit utilizes motorized nonsurgical pens with disposable cartridges to perform nano infusion mesotherapy. This allows clients to get the results they desire through a less invasive option.
More information is available at https://timeless-evolution.com/products/ols/products/aquafacial-by-timeless-evolution-qfc-by-tml-vlt1
The newly updated device offers clients a nonsurgical procedure that rejuvenates facial skin and results in a more even texture and noticeably improved appearance. Clients are able to return to their normal daily activities upon completion of the treatment.
The process of nano infusion mesotherapy consists of injecting collagen, enzymes, vitamins, and hormones into the mesoderm (middle) layer of the skin where traditional creams are unable to penetrate.
The treatment effectively addresses problems such as acne, uneven texture, wrinkles, sun damage, stretch marks, and more.
The AquaFacial device also performs suction and extraction, fine jet stream, 3D Microcurrent roller, Bi-corneal RF, and cryotherapy hammer technology.
In addition to the AquaFacial, the company also offers RF Microneedling Platforms, Diode Laser Platforms, Serums, PRP accessories, and more. The company prides itself in staying at the forefront of representing advanced levels of solid-state liquid and semiconductor technologies.
They aim to bring cutting-edge technology to both patients and providers. They also offer start-up consultation services for emerging aesthetic companies. With over 15 years of knowledge and expertise, they are able to guide upcoming medical professionals regarding the best services and equipment in the field. Their support, coaching, and one-on-one training ensures that new companies have a successful start.
Online comprehensive training for utilizing the AquaFacial is also available. The limited-edition device comes with both lifetime support and a one-year warranty. The package includes everything needed to get started, including a brochure and provider and patient forms.
A spokesperson for the company stated: "We are proud to be empowering others to grow and become more successful by providing quality skincare equipment. If you are going to invest in one piece of new equipment for your skincare clinic this year, make it the revolutionary AquaFacial – an advanced, multi-functional unit for clinicians and beauty therapists."
Interested parties can find additional details at https://timeless-evolution.com/products/ols/products/aquafacial-by-timeless-evolution-qfc-by-tml-vlt1
Release ID: 89062619