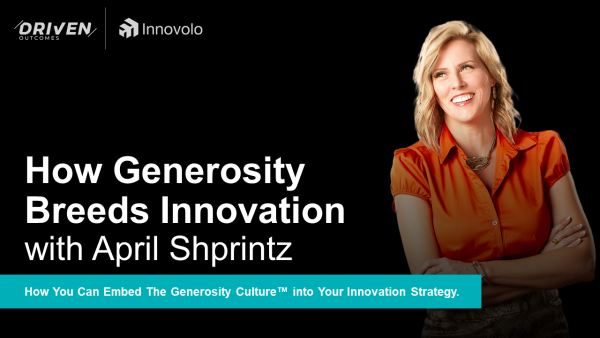 - November 14, 2020 /PressCable/ —
Business owners interested in learning more about how to use the power of generosity to create and breed a culture of innovation in their businesses can view an exclusive webinar with business accelerator, and proud veteran April Shprintz on the Innovolo website: https://innovolo.co.uk/generosity-innovation-april-shprintz
The Generosity Culture helps employees to be magically drawn out of bed every morning because of the culture of the place they worked.
Hosted by Innovolo, and in addition to answering some tough questions from the live audience, April uses her personal experience as a child, as a veteran, and as a business owner generating over $1 billion in combined additional revenue, and explores the three ways to implement a culture of generosity in business.
April Shprintz has spent over two decades driving growth for companies through generosity. She started her career in the Air Force and went on to specialize in sales, operations, and marketing, supporting Fortune 500 clients and generating over $1 billion in combined additional revenue for the companies she served. Three and a half years ago, after her highest-earning, 7- figure year in the corporate world, April left to start Driven Outcomes helping companies around the globe accelerate their businesses. April's helps them make their impossible, possible using the principles of The Generosity Culture
April today works as a business accelerator with business owners and leaders who are scaling up their companies, but find that their staff have got more work than they can handle; the company has grown faster than the owner can scale the culture and infrastructure to support it.
Typically, April's clients have good, sound businesses, but they are stale, or the culture is status quo, when in reality, it could be extraordinary.
The full agenda of this informative webinar also includes:
How to embed April Shprintz's signature Generosity Culture into businesses' innovation cultures
– Three Ways to Implement a Generosity Culture in a Business.
– Pouring into Your People.
– Pouring into Your Client.
– Pouring into your Community.
– The Mindset Shift.
– Caring for (not just leveraging) Your People.
– Lasting vs Transactional Client Relationships.
For more information and to registrar for free access to the full video, interested business owners can also view the webinar on YouTube at https://www.youtube.com/watch?v=IC47pD_aSSs.
Release ID: 88985444