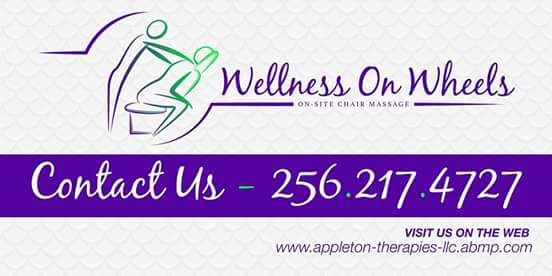 - June 8, 2017 /PressCable/ —
Huntsville massage therapist April Appleton, announces that her massage practice Appleton Therapies, LLC is now offering corporate mobile massage services in the Huntsville, AL area. The practice has officially launched their Wellness on Wheels on-site chair massages to help promote wellness in the local business community.
These mobile chair massages are designed to bring the benefits of a therapeutic massage outside of the Appleton Therapies, LLC practice into a public setting where employees and or event attendees can enjoy. With same-day appointments available, the practice makes massage treatments simpler for clients with busy schedules who only have a few minutes to spare.
So, what is a chair massage? It is a brief massage done while sitting in a specially designed portable massage chair. The massage therapy session usually lasts between 5 to 30 minutes and is performed through the clothing. This type of massage generally addresses the head, neck, shoulders, back, and arms. Unlike a full body massage, no oil is used.
Wellness on Wheels on-site chair massages, serves as a hands-on approach to wellness promotion in the workplace. Not only is it a morale booster to employees, but it also fosters a positive atmosphere as workers are tangibly appreciated for their help in making the business a success. This mobile massage offering has also been extended to serve participants at local events such as festivals, carnivals, conferences, stage plays, and extravaganza's.
Now employees and event attendees alike can enjoy the therapeutic rewards of a chair massage. Some of the many benefits include:
1. Calming of the nervous system, 2. Boosts energy and alertness, 3. Relieves mental stress and physical strain, 4. Reduces muscle tension and pain, 5. Decreases stress and burnout, 6. Relaxes and rejuvenates the mind, body, and spirit.
April Appleton of Appleton Therapies, LLC stated, "Wellness is a state of your mind, body, and spirit being on one accord. Each part is equally balanced, bringing the individual to a place of wholeness. Wholeness is wellness, and having a balanced life is a blessed life! Live Well!"
For more information about the Wellness on Wheels on-site chair massage services, please visit the online information portal located at http://appleton-therapies-llc.abmp.com/. This website serves as an invaluable resource to Huntsville, AL residents to aid in their wellness journey. Additionally, information on other homeopathic treatments and massage therapy services offered can be viewed.
Looking to promote wellness at a company, corporate, or public event? Then Wellness on Wheels just might be the right choice! Visit Appleton Therapies, LLC today and bring the benefits of on-site chair massage services for participants to enjoy!
Release ID: 206008