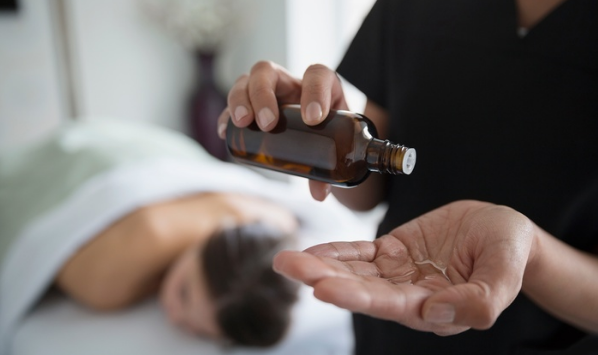 - April 10, 2017 /PressCable/ —
Appleton Therapies, LLC announced today the launch of their new Raindrop Massage Therapy service. This new massage therapy technique is now available for residents in the Huntsville, AL area who are seeking homeopathic alternatives to traditional back pain treatments.
Many types of spinal problems and misalignment such as kyphosis, scoliosis, and other cervical/caudal issues are caused by toxins, bacteria, and/or viruses that lie dormant deep within the spine. This new Raindrop Massage Therapy modality offered by Appleton Therapies, LLC, will provide customers with a powerful, non-evasive treatment that uses essential oils to help rid the body of harmful toxins. Proven benefits of Raindrop Massage Therapy include: significant pain relief, restorative physical properties, and the ability to set in motion a healing process that can last for weeks to come.
The Raindrop Massage Therapy is a 75 minute session that is regularly priced at $95 (cost of oils included). For a limited time only, Appleton Therapies, LLC is offering this incredible service at a special discount of only $75! This is a great chance for Huntsville, AL residents to support a 5 Star Rated Massage Therapy local business and enjoy the many benefits that a Raindrop Massage Therapy has to offer.
For more information about Raindrop Massage Therapy, please visit the online information portal located at http://appleton-therapies-llc.abmp.com/. This website serves as an invaluable resource to Huntsville, AL residents in finding accessible information to address their overall wellness needs. Additionally, information on other homeopathic treatments and massage therapy services offered will be efficiently categorized for easy navigation.
Appleton Therapies, LLC has been serving the Huntsville, AL area since May of 2015. To date it has served over 1,000 customers and has become recognized as Huntsville's premiere massage therapy center. Appleton Therapies, LLC is conveniently located at: 3322 Memorial Pkwy SW #207, Huntsville, AL 35801.
April Appleton, Founder of Appleton Therapies, LLC stated, "Our goal is to help individuals improve their quality of life by supporting them through natural, holistic, and therapeutic means."
Looking for wholeness and wellness through better spinal alignment? Then the Raindrop Massage Therapy Session just might be the right choice! Visit Appleton Therapies, LLC today and remember to Live Well, Be Well, and Stay Well.
Release ID: 184204