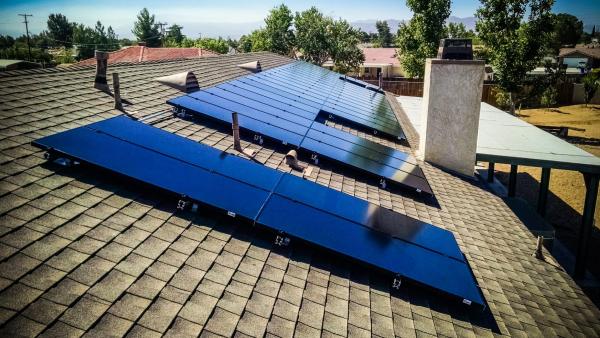 - July 15, 2021 /PressCable/ —
Option One Solar, a solar panel consultation and installation company based in Apple Valley, California, is updating their portfolio of products to include the top-rated LG NeON R and REC Alpha Series models. Both models have been showcased by product review resources as two of the best brands for overall design, durability, and performance efficiencies while their manufacturers can offer long-term reliability and warranty coverage.
More information can be found at https://optiononesolar.com
Solar panels can cut energy bills by 90 percent or more. With the recent update, Option One Solar eliminates out-of-pocket costs for their customers by providing customized design and installation services that incorporate top-rated solar panel models from reliable manufacturers to ensure long-term functionality and appropriate warranties.
Family-owned and operated, the Option One Solar company has its roots in the aerospace industry. Founder Jerry Thomas began his engineering career by working on fighter jet electronics while serving in the US Air Force, and as an electrical supervisor for the Apollo Space Command. He then worked for the City of Pasadena as Chief Electrical Engineer and Inspector. Seventeen years later Thomas left the public sector to apply his knowledge and experience to the growth of Option One Solar.
To help both homeowners and business owners looking to convert to solar power make the best product and installation decisions, Option One Solar analyzes their energy use to design a customized solar panel system that will maximize savings, increase home and office values, and complement exterior aesthetics.
The company's technicians begin the process with a site survey to ensure conditions are optimized for proper installations. Design plans are then submitted to the city. Once designs are approved the company's engineers begin the one to two-day installation process.
By guiding their residential and commercial clients through solar power conversion procedures, the team at Option One Solar are instrumental in maximizing both convenience and savings.
All costs, payment terms and long-term savings are discussed at the outset of every project so clients know what to expect and can approve all steps. The company also offers system monitoring and ongoing support once projects are complete.
By updating services to include the latest in today's solar panel models and manufacturers, the team at Option One Solar are helping homeowners and business owners significantly reduce their carbon footprint while maximizing energy cost savings.
More information can be found at https://optiononesolar.com
Release ID: 89036589