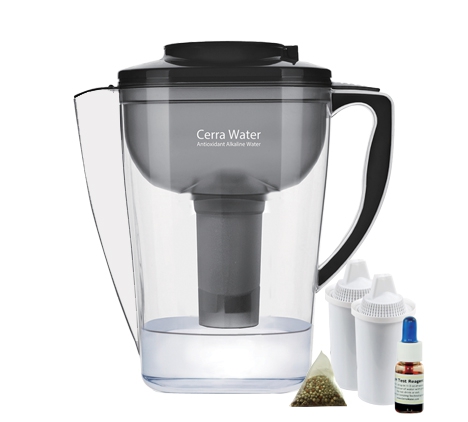 - January 20, 2017 /PressCable/ —
Canadian based Cerra Water has launched a unique alkaline water filtration system using patented Cerra Ceramic Balls. This system uses a 5-step water purification process to remove heavy metals, chlorine and other contaminants naturally, to create refreshing oxidant-free drinking water at an affordable cost.
Click here for more information
Harnessing the power of carbon and Cerra Ceramic Balls, made of semi-precious stones and crystals that neutralize bacteria, the new Cerra Water filtration system is the first of its kind. Other water purification systems typically use just carbon, which if left overnight can produce bacteria. However, Cerra Water's FDA certified Cerra Ceramic Balls removes up to 650 species of bacteria from the water, and is over 98% effective.
Furthermore, the Cerra Water system produces alkaline water that keeps its mineral properties. According to research, many other water ionizers use electricity to cleanse water, which, in turn, reduces mineral content and health benefits.
Additionally, the Cerra Water filtration system is LGA certified and meets NSF/ ANSI standards, as well as SCC safety standards. Plus, this water purifier meets ISO 14001 environmental management guarantees.
Cerra Water is a division of Innovative Ionizing Technologies Inc., also known as IITHealth, based in Canada. This company manufactures and distributes many healing health products worldwide.
Pamela Barinoff, spokesperson for Cerra Water, said, "In today's world food, stress and toxins constantly create an acidic state for the human body, which, in many cases, is the basis of disease and pain. Cerra Water, however, raises the pH to 8.5-9.5 by adding the perfect balance of naturally ionized magnesium, potassium, calcium, and sodium to water. Ionized minerals are then easier to consume and then help to support the nervous system and overall health. Drinking Cerra Water also increases the body's antioxidant levels. Antioxidants can prevent free radical damage, slow down aging, and reduce pain."
To find out more about the Cerra, visit Click here for website
Release ID: 162908