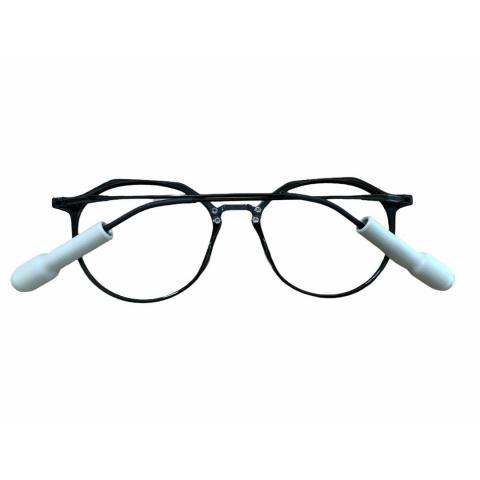 - October 5, 2021 /PressCable/ —
iLiftz has been launched so that eyeglass wearers can minimize the pressure on the bridge of their nose. The weighted socks slip onto the tips of eyeglass arms and create a counterbalance that gently lifts glasses and prevents them from slipping.
More information is available at
https://byebyenosedents.com
The newly released iLiftz cozy socks can make any pair of glasses more comfortable. Even people that have recently had nasal trauma or rhinoplasty surgery will be able to wear glasses as a result of this invention.
Buyers can choose from light, standard, and heavy socks, or purchase a discounted set that includes all three sizes. The light ¼ oz size works best with titanium, wire-frame, rimless, and featherweight glasses weighing .5 oz or less. The standard ½ oz size suits glasses weighing between .5 and .7 oz. The heavy ¾ oz size is ideal for large chunky glasses or heavy prescriptions.
The unisex cozies are discreet, easy to wear, and fit on eyeglass arms from 3mm-12mm. They are made from durable silicone and tungsten and come in colors such as black, gray, brown, and lilac. Most customers report that their ears adjust to the weights within 2-3 days.
In addition to its cozy socks, iLiftz manufactures a variety of eyeglass retainers, eyeglass straps, cushions, and jewelry. All of its products are designed and manufactured in the USA. They can be shipped domestically, or abroad to Australia, Canada, Ireland, and the United Kingdom.
The iLiftz cozy socks were invented by Sherry Sandt as a result of her own frustrations with ill-fitting eyeglasses. After buying expensive lightweight frames that still caused nose dents, she was determined to find a solution for uncomfortable glasses.
A satisfied customer said: "I got the iLiftz cozy eyeglass socks and they were exactly what I needed. My glasses were causing a dent on my nose and these lifted them up enough to alleviate the pressure. The iLiftz are great quality, easy to put on and don't move around at all. If you're looking for a product to ease your nose dents and/or pressure, and keep glasses from slipping down your nose, look no further."
Interested parties can learn more by visiting
https://byebyenosedents.com
Release ID: 89048048