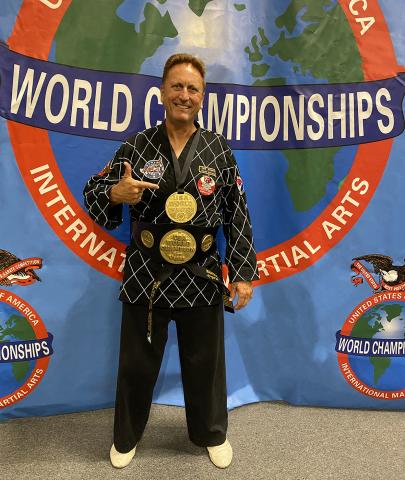 - August 30, 2021 /NewsNetwork/ —
His induction into the 2021 Masters of Martial Arts Hall of Fame follows three previous inductions in the USA Martial Arts Hall of Fame in 2016, 2017 and 2020.
John Gill says "I'm very honored to be inducted into the Masters of Martial Arts Hall of Fame and have felt so welcomed into the USA since coming here from 1998 competing in many Martial Arts events."
Master John Gill is a 7th Dan black belt Master instructor in Hapkido and Taekwondo under 9th Dan Grandmaster Sung Soo Lee of Sydney, Australia. He is also a highly acclaimed international Motivational speaker.
The Australian-born martial artist pioneered a movement to empower women by teaching them martial arts and self-defense. He introduced the first self-defense classes for girls in high schools in Australia in 1985, and in 1987, he opened the first female-only Hapkido class. He is also an ambassador for the White Ribbon Foundation for the prevention of violence against women. For his work promoting women's and children's safety, John Gill has been nominated for Australian of the Year seven times, and was the first instructor sent to neighboring Solomon Islands to teach for the 2019 16 Days of Activism for the prevention of Gender Based Violence.
John Gill teaches his students to believe in a philosophy of non-violence, respect for others, politeness, manners, and doing the right thing to other people. By following this path, they will be able to develop into their full potential.
More details can be found at https://www.usaschoolofselfdefense.com/
Joshua Roarty, an original part of John Gills USA national and World Self-Defense Championship winnng team, said "Master John Gill is an incredible ambassador for Martial arts as a sport and a method of self-defense He has dedicated so much time and belief to helping girls and women feel safe, confident, and empowered. In a world where you are a product of your environment and the people you surround yourself with, it's impossible to underestimate the positive impact Master Gill's influence has had on so many different people."
John Gill is also an Australian and Pan Pacific Masters Tennis Champion who put together the USA's first ever City vs City Pickleball league with 6 competing teams, resulting in Huntington Beach (Orange County, CA) defeating South Bay Los Angeles in the December 2020 final.
He has also been featured numerous times on radio and television, as well as in the books 'Think Big' by Cydney O'Sullivan, 'The world's Greatest Martial Artists' by Ted Gambordella, 'Real women's Self defense' by Allen Woodman, the 'Who's Who in the Martial Arts' by Jessie Bowen.
John now lives in the United State with his wife Victoria, who is American, as is his Grandfather on my mothers side, which John says contributes to his feeling "Americanized"; in addition to the long standing friendly relations between Australia and the United States.
His only disappointment is the homeless issue in America, and he hopes to play a role in reducing it through the founding of the "SAFE Foundation for the prevention of Violence and Homelessness", which he hopes others will consider supporting.
Master John Gill is also Founder of the "USA School of Self-Defense", a Martial arts and self-defense training organization offering programs in Southern Oregon ,Los Angeles and Orange County's California.
More information about USA School of Defense and John Gill is available at https://www.usaschoolofselfdefense.com/
Release ID: 89043727