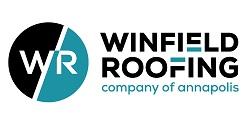 - January 15, 2021 /PressCable/ —
A local roofing company in Annapolis, Maryland, Winfield Roofing Company of Annapolis, has pledge its commitment of service offerings to homeowners in their service areas. The announcement is in response to multiple storms that occurred near the Annapolis area during last fall season.
Annapolis, Maryland, with a population of 38394, had seven hail reports within 10 miles of the city center in 2020. The largest report of hail in 2020 near Annapolis was 1.75 inches about 6 months ago. The zip code with the highest number of damaging hail reports near Annapolis in 2020 is 21401, with four reports.
Company Representative, Zach Dickie, stated, "In lieu of the recent storms that swept through the Annapolis area this fall, at Winfield Roofing Company of Annapolis, we are proudly offering a free 21-point storm damage inspection to help local Annapolis homeowners this winter and in to spring."
Information about Winfield Roofing Company of Annapolis can be found on their company website here: https://centralmarylandroofing.com/roofer-near/annapolis/
With violent weather comes an increased potential for roof damage, in the form of both hail damage, and wind damage to homes. Winfield Roofing Company of Annapolis is working with local home and business owners that were impacted by providing professional inspection services to identify storm damage and offer solutions for repair. While a homeowner or property owner may have lived or worked in their property for many years, areas that have been damaged or had its structure compromised by a storm may get passed over by the untrained eye. It is important to have experience professionals to come in and inspect the property for potential issues. Whether a house flooded, sustained wind damage or was struck by lightning, the aftermath of a storm can pose serious dangers. Live power lines, mold and open areas of the property can put all the occupants at risk. It may even be a wise decision to leave the structure until a professional building inspector is able to evaluate the damage.
There are many benefits to having professional roofers to inspect after a storm. One of those benefits is the insurance claims process. Annapolis roofing company, Winfield Roofing Company of Annapolis, is very familiar with the insurance claims process and can help victims of storm damage prepare the documentation necessary to file their insurance claims.
When asked about the value of their 21-Point Roof Inspection, Company Representative, Zach Dickie, stated, "The value of having a roofing inspection done is to ensure that a small problem does not turn into a much larger problem. Annapolis, homeowners can feel peace of mind trusting their home to true local roofing professionals. This includes examining the roof for leak spots, missing shingles, broken shingles, lifted shingles, hail damage, and debris on the roof. We work with the homeowner and often find the many are even able to qualify for new roofs from their insurance because of the storm damage."
Winfield Roofing Company of Annapolis has been serving the Annapolis, Maryland area for more than 40 years and have gained a reputation for their attention to detail, honesty, transparency, competitive pricing, and professionalism. Those interested in scheduling a consultation or a free inspection should call the company's customer support staff at (443) 318-1072. Requests can also be made by visiting the company website and completing the online contact form.
Release ID: 88993504