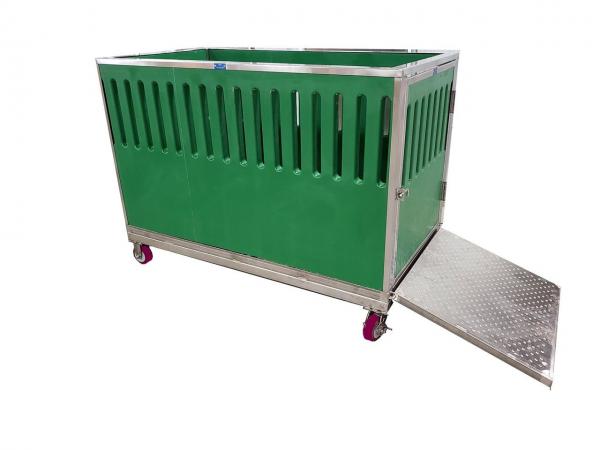 - August 27, 2019 /NewsNetwork/ —
Otto Enrichment has launched a new multipurpose transport cart, which can be used to transport animals and materials with ease. It is made from stainless steel with open called plastic panels and is custom made with a choice of options.
Full details can be found at: https://www.ottoenrichment.com/multipurpose-transport-cart
Customers can buy the cart with a coated plastic or steel floor, a swing or ramp door, excreta pans, and solid or pneumatic wheels. It is designed to be lightweight, durable, and highly versatile.
Otto Enrichment, the animal care products division of Otto Environmental, is located in Milwaukee, WI, and offers high quality animal enrichment products, including exotic animal enrichment and lab equipment.
Customers can get in touch for diagnostic equipment, primate caging, livestock pens, animal accessories, material handling and a range of other products.
Some of the featured products on the online store include bite blocks, lab carts, greens feeders, polypropylene balls, miniature horse pens, jungle retreats, and stainless-steel personnel doors.
Customers can browse the online store based on category to make it easier to find what they're looking for. Enrichment products are available for dogs, cats, livestock, primates, small animals, reptiles, aquatic animals, birds, and more.
Options include bungees, hammocks, treats and food, balls, large plastic devices, mirrors, nibble nets, stainless steel toys, swings and climbing frames, and other products.
Animal enrichment is important wherever animals are kept, because they need to have a stimulating life with the chance to act naturally. The best environments provide the chance for animals to engage in their natural behavior.
This could mean playing, climbing, snacking, running, practicing hunting, or any other types of activity. Proper animal enrichment helps to satisfy the physical and psychological needs of the animal, providing it with a more exciting life.
Zoos, vets, and other institutions can improve animals' environments and care with a focus on nurturing their natural behavior and instincts. Ordering high quality products through Otto Enrichment is a great way to go about this.
The company states: "Our aim is to improve the lives of animals and those who care for them. For more than 20 years our team at Otto Environmental has been finding and even creating some of the best animal enrichment and equipment products available. Our customers come from all over the United States to shop our online store and are typically professionals who care for animals on a daily basis."
Full details of the new transport cart and other items available can be found on the URL above.
Release ID: 88912466