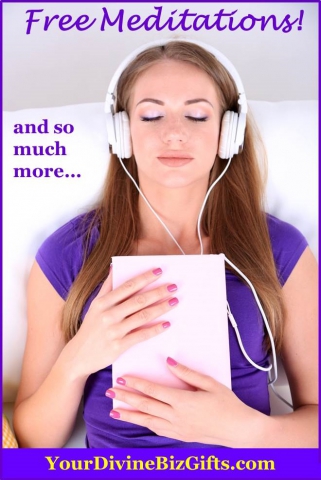 - September 6, 2017 /PressCable/ —
Angela Artemis of Powered by Intuition and Divine Biz Gifts Giveaway will be working together on their newest launch for Divine Biz Gifts Giveaway starting September 5 2017. These two businesses have a wealth of combined experience in Online Marketing , Online product sales, and Spiritual Self Improvement .
Interested parties can view full partnership details on the following website: https://www.poweredbyintuition.com/2017/09/05/powered-by-intuition-participates-in-a-spiritual-giveaway/
With the launch of Divine Biz Gifts Giveaway, Powered by Intuition and Divine Biz Gifts Giveaway will be sharing multiple responsibilities including:
Invite Spiritually Minded Business Owners & Entrepreneurs to the Giveaway – The Giveaway is Open to All Spiritual Entrepreneurs Interested in Growing their Business
Invite All Existing Spiritually Minded Clients to Download the Valuable Complimentary Gifts – All Partners Will Extend Invitations to Their Entire Lists of Spiritual Clients
Attract New Clients Interested in Spiritually Minded Services – Cross Promotion by All Partners Ensures that Potential Clients Looking for Specific Services Will Find What They Need
The Divine Biz Gifts Giveaway has been created specifically for Business Owners with multiple features:
Complimentary Downloadable Tools for Entrepreneurs – 100s of Complimentary Digital Products, Programs and Services Available for Immediate Download
Products are Geared to Help Spiritual Entrepreneurs Have More Success – Complimentary products offer ways to increase business, profits, and attract more clients
Complimentary Products, Programs and Services Geared Toward Spiritual Self Improvement – Meditations, Self Assessments, Guides, Programs and Ebooks for Spiritual Self Growth
Angela Artemis, Owner of Powered by Intuition had this to say about the new launch partnership for the Divine Biz Gifts Giveaway:
This is the ultimate giveaway for spiritual entrepreneurs looking for scores of complimentary tips, tools and services to grow their business and enhance their personal spiritual growth.
Those interested in learning more about the partnership can do so here: https://www.poweredbyintuition.com/2017/09/05/powered-by-intuition-participates-in-a-spiritual-giveaway/
Those interested in downloading complimentary gifts from the Divine Biz Gifts Giveaway can do so here: https://yourdivinebizgifts.com/homepage.php?aff=47
Release ID: 236402