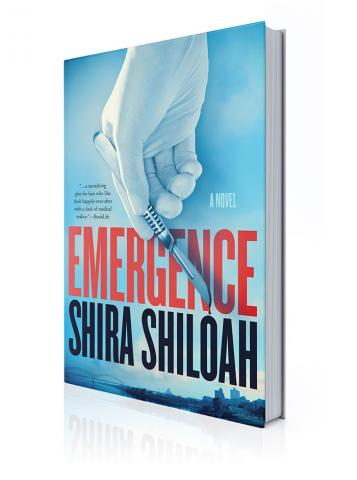 - September 9, 2020 /PressCable/ —
Memphis, TN — September 9, 2020 — Memphis anesthesiologist, Dr. Shira Shiloah, announces the release of her debut medical thriller, "EMERGENCE." Published by Salty Air Publishing, this chilling tale, dubbed a "medical romantic thriller" by BookLife, will be available wherever books are sold beginning September 15, 2020.
"EMERGENCE" (Trade Paperback ISBN: 978-1-7351930-0-7, $15.99), follows D.K. Webb, a neurosurgeon who intentionally maims and kills his patients in Memphis, Tennessee. A scalpel wielding villain, a health care system that fails, a whistleblower that protects her patients – the author has created a disturbing story that will keep readers breathless until the very end. Bringing a professional perspective for what might happen in an operating room when a sociopathic neurosurgeon holds the scalpel, Shiloah's suspenseful accounts of operations, as well as her patients' endearing and sometimes heartbreaking stories, are crafted with an insider's accuracy and empathy.
In addition to medical thrills and chills, "EMERGENCE" is sure to entice readers with a romantic side story that Kirkus calls "delightfully complicated."
ABOUT THE AUTHOR:
DR. SHIRA SHILOAH received her medical degree from the University of Tennessee and completed her Anesthesiology residency at Northwestern University.
Shira's debut novel evolved from a short story written for the Annual National Medical Fiction Writing Competition for Physicians in 2007. After placing third in the contest, Shira discovered she enjoyed writing and carried on with the hobby for thirteen years before finalizing the manuscript that became "EMERGENCE". Releasing in 2020, "EMERGENCE," is a romantic thriller that explores what happens when a sociopathic neurosurgeon holds a scalpel to anesthetized patients.
Shira lived in Brooklyn, Jerusalem, Chicago and Washington, D.C., before choosing Memphis as her hometown. She enjoys traveling the world with her husband and long meandering walks with her rescue pup.
"EMERGENCE" will be released on September 15, 2020 by Salty Air Publishing. Trade Paperback ISBN: 978-1-7351930-0-7, $15.99
To contact Shira and learn more about her book, please visit www.ShiraShiloahMD.com.
Release ID: 88974486