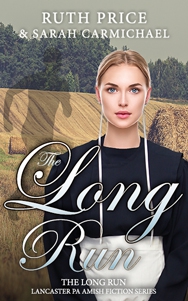 - May 10, 2016 /PressCable/ —
Christian fiction lovers looking for a delightful Amish book can purchase The Long Run by Ruth Price and Sarah Carmichael for $2.99 on Kindle, Nook, iBooks, Kobo, Page Foundry and 24Symbols today. This is Book 1 of the The Long Run series. It is also available in Paperback for $8.99.
In The Long Run, when an Englisch track coach scouts David Beiler, a Amish natural born runner, to run for a local high school team, David must choose between his developing interest in a young Amish woman, Salome, and a future as a track star. And even as he struggles with this decision, things go from bad to worse when Salome's widowed mamm, Sarah, is courted by a controlling and abusive Amish widower. Readers will be riveted, wondering if David will be able to protect Salome from terrifying abuse, even if it means giving up a chance to be a star.
Readers can learn more about this Amish book here: http://familychristianbookstore.net/index.php/2016…
Amish author, Ruth Price strives in her fiction channel a higher good, and while she doesn't always reach that ideal, she hopes that her readers are entertained and inspired by her stories. Amish author, Sarah Carmichael has always loved telling stories, and when she met Ruth at a local farmer's market and the subject of writing came up, they began collaborating on this and other books. In her writing, Sarah strives to tell an entertaining story that shows the beauty of God through the seemingly small moments of a person's everyday life.
Readers have raved about Ruth Price and Sarah Carmichael's The Long Run:
About The Long Run, Amazon reader, D Greenacre, says: "…I jumped right in and finished it in one sitting! The story line caught my attention from the first page as I tried to figure out where an Amish runner and a public school coach would fit in to real life in an Amish community. The author has woven a couple of "real life" dramas which makes it a mystery to me how it will end. I really can't guess what's going to happen as the series continues — it was quite a cliffhanger!"
Also about The Long Run, Amazon.com reader, Amazon Customer, raves, "…a great Amish book! the story is a very good example about the Amish culture, lives and how they are dealt with. a must read! I received this book as an ARC, winning it. I can't wait for the next book!"
And a third Amazon.com reader, also using the handle Amazon Customer, says, "It has kept my interest. David is a wonderful young man who is smart and he is a real Amish. I hope he is able to join the trainer Rob .He will be able to go places and have a good life. Thank you for a wonderful story."
Readers can learn more about The Long Run here: http://familychristianbookstore.net/index.php/2016…
The Long Run is being offered for $2.99 on Kindle, Nook, iBooks, Kobo, Page Foundry and 24Symbols. It is also available in paperback for $8.99 through Createspace, Amazon.com and other online book distributors. Readers will find this book engaging, uplifting and ultimately a sweet read.
About Global Grafx Press:
Global Grafx Press was founded in 1997. This Christian book distributor is known for publishing great Western romance novels, Christian nonfiction, and Amish books. They are committed to helping readers find the best, clean Christian books online and hope that their readers enjoy browsing their Christian Bookstore. Those interested in learning more about Global Grafx Press can do so at http://familychristianbookstore.net.
Release ID: 114181