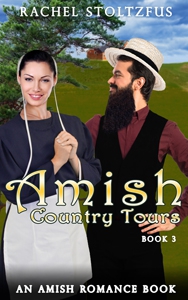 - September 18, 2015 /PressCable/ —
Amish romance readers looking for the newest Amish book can purchase Amish Country Tours 3 by Rachel Stoltzfus for 99c on Kindle, Nook, iBooks, Kobo, Scribd, Oyster, and Page Foundry today. This is Book 3 of the bestselling Amish Country Tours series.
In Amish Country Tours 3, Amish widow, Sarah Hershberger faces her greatest challenge as community dissenters prove they will stop at nothing to put her out of business for good. Readers will ask themselves if the help of her family, friends and John Lapp, the widower she has grown to love, will be enough to save Sarah's business, family and future.
Readers can learn more about this Amish book here: http://globalgrafxpress.com/amish-country-tours-3-…
Amish romance author, Rachel Stoltzfus strives in her fiction to present a fair and honest representation of a love that is both romantic and sweet. Christian readers will find this book both provocative, engrossing, and ultimately inspiring.
Readers have raved about Rachel Stoltzfus's Amish Country Tours series, giving the first two books over twenty 4 and 5-star reviews between them on Amazon.com.
About the first book of the series, Amish Country Tours, Amazon reader, Lisa, raves: "I don't know if I can put into words how much I loved reading this book! God is so good! Sarah Fisher is a mother of five wonderful children! She has her mamm to help her since her husband died. John Troyer also lost his wife. God brings them together and I can just feel the love…"
Also about Amish Country Tours Book 1, Amazon.com reader, Pamela Williams, says, "I just love this book. This book shows how an organized mother raises five children as a single Mom, with each child being happy and helpful, doing their chores without complaining. Because she is organized but mostly because she is kind and Loving. Of course this book teaches how faith in God is an important part in making our lives joyful, peaceful and comfortable."
About book 2, Amish Country Tours 2, Amazon.com reader, Sandra, adds enthusiastically, "I so enjoyed this book and I cannot wait untill the next book come out. It ended too soon. I just wanted to see her and her family prosper. I sure hope the deacon does not influence the people in her community to shut her tours down. I'm waiting for book 3."
Readers can learn more about Amish Country Tours 3 here: http://globalgrafxpress.com/amish-country-tours-3-…
Amish Country Tours 3 is being offered 99c on Kindle, Nook, iBooks, Kobo, Scribd, Oyster, and Page Foundry.
About Global Grafx Press:
Global Grafx Press was founded in 1997. This Christian book distributor is known for publishing great Western romance novels and Amish authors as well as Western Historical fiction. They are committed to helping Christian readers find the best, clean Christian books online and hope that their readers enjoy browsing their Christian Bookstore. Those interested in learning more about Global Grafx Press can do so at http://www.globalgrafxpress.com.
Release ID: 91580