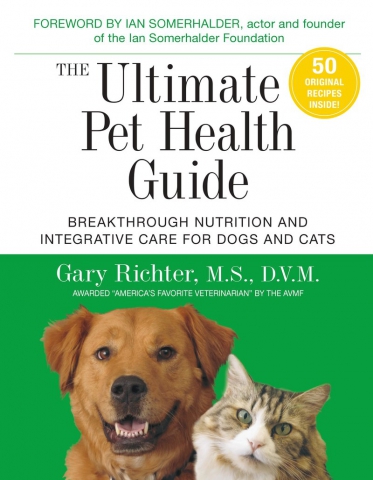 - September 13, 2017 /PressCable/ —
Oakland, Calif, September 12, 2017 – America's Favorite Veterinarian Dr. Gary Richter's award winning book, The Ultimate Pet Health Guide, became a #1 best seller on Amazon in four countries including the USA, Australia, Canada and Germany.
For a limited time, the publisher Hay House is offering this international best-selling e-book, The Ultimate Pet Health Guide, for a special price of $1.99 through the following booksellers:
– Amazon Kindle
– iTunes/iBook
– Nook (Barnes & Noble)
– Kobo
In his book, Dr. Richter shares 50 fresh pet food recipes in addition to his best-kept secrets that help pets live longer and healthier lives. "One of the ways to optimal health is through nutrition, said Dr. Richter. "It is wonderful to know that this book makes it possible for people to give their pets a healthier life."
Ian Somerhalder, actor and founder of the Ian Somerhalder Foundation which seeks to help, educate and collaborate with people to benefit the planet and animals, wrote the forward for The Ultimate Pet Health Guide.
Dr. Richter released his new best-selling book, The Ultimate Pet Health Guide, with the intention for every pet owner to care for their cats and dogs using the best holistic approach. In the book, readers will find specific recommendations for an integrative approach to common pet diseases such as allergies, skin condition, diabetes heart disease and cancer. All treatments recommended are backed by extensive research from years of success using them at his clinical practice.
About Dr. Gary Richter
Dr. Gary Richter. M.S, D.V.M, C.V.C, C.V.A., is the medical director of Montclair Veterinary Hospital in Oakland, California since 2002 and launched Holistic Veterinary Care in 2009.
He obtained a B.S in animal science, an M.S. in veterinary medical science and a doctorate of veterinary medicine with honors from the University of Florida. In addition, he is certified in veterinary acupuncture and he is a certified veterinary chiropractor.
Alongside his two animal hospitals, Dr. Richter has received more than 30 awards at a local and a national level. These awards include Best Veterinary Hospital, Best Veterinarian, Best Canine Therapy Facility and Best Alternative Medicine Provider. Dr. Richter was voted as America's Favorite Veterinarian by the American Veterinary Medical Foundation (AVMF).
Those wishing to find out more about Dr. Richter can visit the website www.HolisticVetCare.com. The Ultimate Pet Health Guide is available on Amazon: https://amazon.com/Ultimate-Pet-Health-Guide-Breakthrough/dp/1401953506.
Media Contact and for Interviews
Please Contact: Linda Lee
510-599-8584
Lee@GoAskLee.com
Release ID: 238672