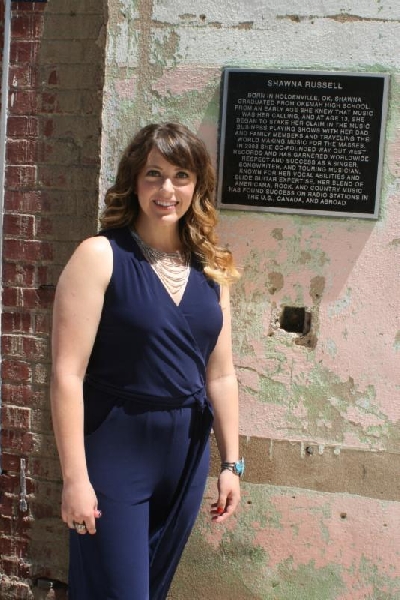 - May 14, 2015 /PressCable/ —
Americana/Country/Rock music artist Shawna Russell has been honored by her hometown, Okemah, Oklahoma, by having a portion of downtown dedicated to the entertainer. Russell took time out from her touring schedule to attend the ceremony, along with Okemah Mayor Anthony Landers, Roger Thompson, a senator from Oklahoma, Wayne Bacon, Okemah City Council member, and scores of fans, friends and family members. Okemah also is home to legendary singer/songwriter Woody Guthrie.
"I feel honored to be recognized in this way for my musical contributions," Russell said, "especially in a community like Okemah, which has such an incredible background in this area. I am humbled that I will be a part of the town's history for simply doing something I love."
The honor, approved by the Okemah City Council, recognizes Russell's contributions to the music industry, as well as her positive representation of her hometown. "As a native of Okemah and a graduate of Okemah High School, Shawna Russell has shed a positive light on the city of Okemah," Bacon said. "We would like to recognize the many accomplishments Shawna has made in the music industry and create a place for her many fans to come and appreciate her."
The city plans to have a mural created depicting Russell's career and life in Okemah, as well as a stage and performance area to be used during the annual Woody Guthrie Folk Festival and other events. Russell is scheduled to perform at the 2015 Woody Guthrie Folk Festival, which is set for July 8-12. Shawna Russell Way will also be a stop on Oklahoma's Music Trail, a statewide tour of Oklahoma's rich musical heritage.
Russell, whose music has received critical acclaim by Country Weekly, Billboard.com, CMA Close Up, Music Row, Today's Country Magazine, Texas Regional Radio Report and others, currently is touring with concert, casino and club dates throughout the Midwest in support of her self-titled CD. Her band includes her father, Keith Russell, and her uncle, Tim Russell, with whom she co-founded Way Out West Records.
For more information about Russell, visit http://shawnarussell.com
About Shawna Russell: Shawna Russell hails from Okemah, Oklahoma, the home of Woody Guthrie. And like the legendary figure, Russell has spent a good deal of her life writing songs and traveling the roads of America performing her music. Forging a musical sound that combines Country, Rock, Folk and Americana, Russell has built a reputation as a powerhouse singer and musician. Her music has received critical acclaim from numerous publications, including Country Weekly, Billboard.com, CMA Close Up, Maverick (U.K.), Music Row, Roughstock, Texas Regional Radio Report, Dreamwest (France), The Oklahoman, Today's Country Music and Oklahoma Gazette. Russell's radio singles have included "Goddess," "Should've Been Born With Wheels," "Fire In The Desert," "Get Right Or Get Left," "Sounds Like A Party," "Everybody's Got A Story" and "Waitin' On Sunrise." Her songs have charted in the United States on the Texas Music, Billboard "New and Active" and MusicRow charts, and internationally on the Hotdisc and New Christian Music charts. Russell first came on to the national and international music scene in 2008 with the release of her debut album, "Goddess," on which she co-wrote 12 of the 13 songs.
Leading up to her well-received debut was an incredible amount of hard work and years of perseverance. Russell first sang in public at age 7. At 13, she and her dad, Keith, formed a country band that played for clubs and Elks Lodges on weekends. At 17, she joined her uncle, Tim Russell's, band, which was already a successful regional band on the club circuit across the Southwest. These experiences gave Russell a training ground to hone her remarkable vocal chops and skills on acoustic rhythm, electric slide and lead guitar while touring across much of the United States performing at many of America's top live music clubs, including The Grizzly Rose, Billy Bob's and the Wildhorse Saloon. She also spent three years fronting and playing guitar in fellow Oklahoman, Ty England's band, which included a USO Tour of Korea in 2005.
Release ID: 81945