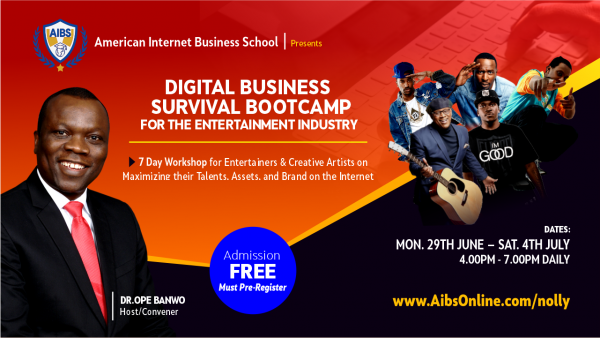 - June 20, 2020 /PressCable/ —
American Internet Business School (AIBS) has announced a free seven days workshop for artistes, musicians, comedians, producers, and entertainment executives.
Dr. Ope Banwo, Chief Executive Officer (CEO) and Founder of AIBS unveiled the workshop from his base in America, as part of a digital business empowerment and awareness initiative for the entertainment industry. The free workshop targeted at operators of the entertainment industry will hold from Monday, June 29th to Saturday, July 4th.
Tagged 'Digital Business Survival Workshop', the online training will avail attendee the opportunity to learn digital business strategies that any creative artiste or executive can also use to create multiple streams of additional income for their brand, creative works and fan base.
Explaining the rationale behind the workshop, Dr. Banwo said: "The American internet business school recognize that even before the COVID-19 pandemic came and decimated the finances of many individuals and companies in virtually every industry, many creative artistes have struggled to understand how they can generate extra income from their talents, artistic catalog and huge fan base without the investment of capital, technical skills or digital business experience
"While most serious creative artists, entertainers, and executives do have some impressive presence online, most have barely scratched the surface of the amazing potential of the internet to multiply the returns on their creative assets and brand and create sustainable levels of income that will far outlast their active days as creative artistes.
"This first of its kind seven days 'Digital Income Survival Workshop', complete with real time case studies of how some of the strategies have been successfully applied in the global marketplace, will provide a simple step by step blueprint that creative artistes, actors, actresses, musicians, producers, and executives can follow in using the internet to create multiple income streams for themselves through their talents, catalog, brand and fan base," Dr. Banwo said.
Highlighting the schedule of the workshop, Training Director of AIBS, Nancy Hicks described the workshop as a special post-COVID-19 economic survival palliative program to provide the much needed strategies for digital monetization to the highly resourceful and talented members of the entertainment industry.
According to her, AIBS invites all members of the entertainment industry to attend this the seven days free breakthrough workshop and get introduced to some very simple streams of digital income that have been specially customized for members of the entertainment industry.
"Every day, for three hours, during the seven days conference, Dr. Banwo and a team from the American Internet Business School will be breaking down one digital business income stream peculiar to the entertainment industry and providing attendees with the blueprint on how they too can get started in monetizing their skills, creative assets, and fan base as entertainers or entertainment executives.
"The seven days workshop is free for all Musicians, Actors, Actresses, Producers, Comedians, Executives and anyone connected with the entertainment industry, but everyone must pre-register to lock down their spot since the digital training room they would be using can provide access to 100 participants only."
Training areas during the seven days workshop include: Affiliate Marketing Income Stream For Creative Industry, Info Marketing Income Stream For Entertainers, Freelancing Income Stream For Creative Artistes, Celebrity Drop shipping Income Stream, Celebrity Membership Sites Income Stream, and Social Media Income Stream For Entertainers.
Affirming the fact that there is indeed a lot to be benefited from the workshop, Dr. Banwo said: "This is the time for all members of the creative industry to take the ability to generate multiple income streams from their talents, creative assets and fan base to the next level. We encourage everyone involved in the industry to come and benefit."
The primary objective of American Internet Business School (A.I.B.S.) is to provide modular internet-based training in the form of Online and Live Training; Recorded Training and Home Study courses for doing business on the internet. The school equips businesses and individuals on how to maximize their productivity and profitability on the internet, and provide training on key areas of internet business, brand building, communication, marketing and sales
For more information on the digital business conference visit: www.aibsonline.com/nolly
Release ID: 88964636