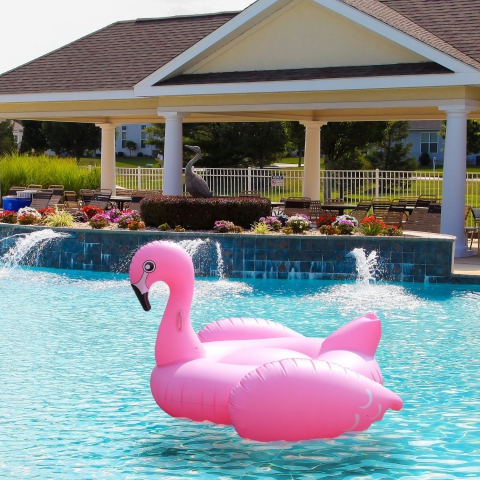 - May 12, 2017 /PressCable/ —
When Teddy Shake first launched their pink flamingo float last year, they were looking at the best, most effective way to sell and distribute the float to customers. They considered the retail route, where customers could be the float on the shelf at the local store -but this can be very expensive for a start-up product, as a company is unsure how much stock should be placed in each location – which can quickly lead to supply issues. Teddy Shake made the decision to sell their flamingo float exclusively online at Amazon.com. Not only does Amazon provide customers throughout the world stock of the float at the click of the button, but Amazon has many free shipping options available to their customers.
"How many times does a person go to purchase a product online, and the shipping cost is almost as much as the product" questioned Teddy Shake company spokesperson Bailey Anderson. "We wanted to ensure there was an affordable, quick way for customers to receive our float. On Amazon, any customer with an Amazon Prime subscription can receive our float delivered to their doorstep in just two days. Don't have Amazon Prime, that's ok – with a combined purchase of $49 or more, that order too can receive free shipping. Need the float tomorrow? Amazon has that covered too – just a few dollars more, that same pink flamingo float can be in your hands tomorrow. This is a fantastic selling partnership for our company, and our customers."
Over 100 customers love the Teddy Shake pink flamingo float. and have written reviews on the Amazon.com listing for the inflatable. 97% of these customer reviews have said they liked the Teddy Shake flamingo float in their ratings, with the average review rating of the float a 4.6 out of 5 stars. A verified purchaser, Angel27, wrote a five-star review and said "My three year old thinks this pink flamingo raft float is just the coolest, not just because it's pink. Ok, you can pass this off as a boat to a three-year-old it's that big to a pint-size child. Let's talk heavy duty; this is in no way a flimsy fly away float like the umbrellas or other flimsy toys on a windy day. Only negative which I already knew by reading other reviews before purchasing is….. you won't find me blowing this bad boy up with just my own hot air via my mouth. You Will definitely need some sort of air pump preferably an electric one that you can plug into your vehicle USB style:)"
The Teddy Shake pink flamingo inflatable is priced at $39.99 – a twenty dollar savings off the retail price.
About Teddy Shake: "As relaxing as a Bahama breeze; Teddy Shake makes the world's most relaxing, fun, and quirky pool floats for you and your family. With constant R&D and innovative thinkers working to make the most incredible pool floats and toys possible, we want nothing more than for you to have the time of your life."
Release ID: 199035